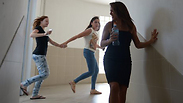 Emergency drill (Photo: Avi Rokeach)
Photo: Avi Rokeach
A second siren will sound across Israel at 7:05 pm on Tuesday as part of an annual five-day drill to practice emergency responses to security situations.

Tuesday's first siren was sounded at 11:05 am. As with the morning's siren, communities bordering the Gaza Strip will not hear the alarms just after 7 pm. The aim is to give all Israelis practice in entering their chosen protected space, both in the workplace and at home, as well as testing the state of the country's sirens system.

The drill involves the Home Front Command, the Ministry of Defense's National Emergency Authority (NEA), government ministries, local authorities, security organizations, the education system, and public and private entities. The exercises will end Thursday.

Prime Minister Benjamin Netanyahu visited a Home Front Command base in Ramle alongside Defense Minister Moshe Ya'alon and IDF chief Gadi Eisenkot. The prime minister praised the soldiers' work and connected the yearly exercise to preparedness for all eventualities, including the threat from Iran.

"The agreement that's developing between the powers and Iran, which paves the path to lots of atomic bombs and also funnels lots of money into Iran's registers, will allow (Iran) to to continue arming our enemies," said Netanyahu.

The "Turning Point 15" drill is this year focusing on Home Front preparedness for a conventional event, and its relationship with government ministries, rescue services and local authorities, as well as readiness for an emergency.

The drill will place special emphasis on the preparedness of the national infrastructure (electricity, water, gas and so on) for emergencies, as well as upgrading the coordination and cooperation between all ministries, which will be led by the NEA. Part of the drill will take place in the Northern Command and cover responses to an ongoing security situation involving multiple agencies.

Meanwhile, Israel has in recent days sent calming messages to Iran and Hezbollah, Ynet has learned, stressing that the drills being held this week across the country are purely to practice emergency situations.

The messages aim to prevent a mistaken assessment of Israeli intentions, given the current difficulties experienced by Hezbollah and the Assad regime in Syria, and the possibility of a nuclear deal between Iran and the world powers at the end of June.