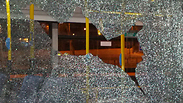 Israeli bus hit by a rock in Jerusalem
The official website of the Prime Minister of Holland has recommend that Dutch citizens exercise caution in the vicinity of Israeli settlements in the West Bank, saying that settlers "throw rocks at Palestinian and international vehicles."
Israel has reacted furiously to what it calls "slander", and has says it will take the matter further.
The travel warning lists the dangers in traveling within the region, including an explicit warning to be wary during all travel in the West Bank and East Jerusalem.
The warnings include an information section that highlights the frequent protests and violent incidents within both areas.
"Jewish settlers live in illegal settlements in the West Bank," the warning states. "These settlers regularly organize demonstrations on and around the roads. These demonstrations are sometimes violent. It happens that settlers throw stones at Palestinian and international vehicles."
The warning specificly mentions the hills around the towns of Nablus and Hebron and the closed military zone in Hebron, which includes the Tomb of the Patriarchs, also known as the Ibrahimi mosque, a source of frequent friction between Jews and Muslims. These areas are labeled as "zones of settler hostility".
The website further warns citizens against travel to Gaza, labelling the security situation as relatively calm since the cease fire on August 27, 2014, after a 50-day war between Israel and Hamas. But, according to the warning, "the situation is unpredictable. The living conditions are worse. Through it all, the security situation in a short time can deteriorate further."
There are dangers of infighting between Hamas and other Palestinian factions within Gaza such as Islamic Jihad, according to the advisory. This, the site says, is in addition to the ongoing risk of becoming a victim of an Israeli airstrike.
On the matter of violent protests, the report warns that: "Jewish settlers continue to build homes and villages in the West Bank and East Jerusalem, thus there are continuing protests and tensions have risen in Jerusalem."
The report places the brunt of responsibilty for the frequent protests and riots in East Jerusalem squarely on the shoulders of the Israeli settlers.
The Israeli Embassy in Holland said in response: "It is unnaceptable to slander the name of a whole community, we will make our objections known to high level officials in Holland."