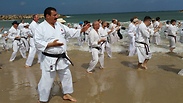 Karate teachers and enthusiasts from all over Israel met on the beach in Herzliya on Friday, enthusiastically flocking to attend a special training session with the well-known karate master from Jordan, Sensei Imad Khalil.
Sensei Imad Khalil is the current head of both the Jordanian Karate Association, and the Shotokan karate association in his home country. Due to his popularity in karate circles, Khalil has garnered a vast social media presence in the Arab world, including thousands of followers from Egypt to the Emirates.
צילום: ג'ורג' גינסברג, עריכה: רותם שניר, בן שפייר
His position as a popular Arab figure has made his trip to Israel all the more unique, especially in light of recent hostility in Arab sports circles towards normalization with Israel, as evidenced by the poor treatment of the Israeli judo delegation to Masters Competition held in Morocco.
The unique event was organized by "Budo for Peace", an organization that uses traditional martial arts to connect youths from different cultural and socio-economic backgrounds. The goal is to teach the young people essential values like self-control, responsibility, and tolerance. These values are meant to help today's garner critical life skills, in order for them to become proactive members of society.
The rare event drew karate enthusiasts from all over Israel from Haifa in the north to the Bedouin community in the south. From afar, the sea of white-robed karate fighters are nearly indistinguishable in the flurry of takedowns, punches and kicks.
Everyone looks the same, making it difficult to tell apart Arab from Jew, Northerner from Southerner. In this karate training session on the beach, everyone is equal, everyone is sweaty, and everyone has hopes to build a better future for their students and everyone's kids.
Unlike the recent politicization of FIFA, here the martial artists are able to uphold the spirit of the sport, free from politics.
Khalil reassures his students on the beach that he is "not afraid".
"People, who deal with karate, want to improve their lives, and the lives of their community," he says. "Sport brings us together."