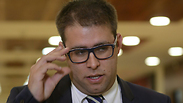 Oren Hazan
Photo: George Ginsburg
Likud MK Oren Hazan, no. 30 on the party's Knesset list, has been appointed deputy Knesset speaker and will be a member of two of the legislature's most prestigious committees - the Foreign Affairs and Defense Committee and the Finance Committee.

He will also be a member of the State Control Committee and the Knesset's House Committee.

The first-time MK threatened not to vote with the coalition on important legislation after his demand to be appointed coalition coordinator in the Finance Committee was rejected.

Instead, Hazan was made a member of the State Control Committee, which made him change his demands.

Hazan, who was said to be furious over the treatment he received, relayed a message to his superiors saying the coalition could not count on him during important votes.

Prime Minister Benjamin Netanyahu's advisor Nir Hefetz tried to reason with Hazan, telling him it was thanks to Netanyahu's help that Hazan was elected to the Knesset. Hazan, according to Likud sources, was not impressed and told Hefetz that his initial demands have changed and that he was no longer willing to settle for them.

The pressure Hazan put on Netanyahu worked, and he managed to score important positions in the narrow 61-MK coalition, in which every MK can bring down a vote.

"Being a member of (four) committees is hard work, I don't know what 'gifts' I got," Hazan told Ynet on Tuesday morning.

He rejected the claims he pressured the prime minister, "There were no threats. It is true some members of the faction chose to blatantly take advantage of my silence to muddy the waters between the prime minister and myself. Unfortunately for them, but not for me, it did not work for them," he said.

Hazan was not the only new MK to win big. MK Miki Zohar, no. 22 on the Likud list, was appointed coalition coordinator at the Finance Committee, he will serve as acting coalition chairman in Tzachi Hanegbi's absence and next year he is expected to sit in seven Knesset committees.

Nurit Koren, no. 28 on the Likud list, will serve in five Knesset committees and will serve as deputy Knesset Speaker as part of a rotation with Hazan and Nava Boker.

Yaron Mazuz, next on the list, will serve as deputy interior minister for a year and then as the chairman of the Knesset House Committee instead of David Bitan, who will then become deputy transportation minister.

Coalition chairman Tzachi Hanegbi (Likud) will head the most prestigious committee, the Foreign Affairs and Defense Committee, while Likud MK Jackie Levy will serve as the deputy construction minister.

MK Avraham Nagosa (Likud) will chair the Committee for Immigration, Absorption and Diaspora Affairs, while MK Dudu Amsalem will chair the Internal Affairs and Environment Committee.

Likud MKs Yoav Kish and David Bitan will share the chairmanship of the Knesset House Committee.

Benny Begin, who had to resign as minister, was only appointed member of the Committee on the Status of Women and Gender Equality and the Constitution, Law and Justice Committee.

Akiva Novik and Yuval Karni contributed to this report.