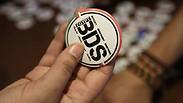 The UK's National Union of Students (NUS), which represents millions of students at British higher education institutes, decided Tuesday to join the Boycott, Divestment and Sanctions (BDS) Movement against Israel.

Motion 518, "Justice for Palestine," passed with a majority of 19 votes in favor, with 12 votes against and three abstentions. It was proposed by Canterbury Christ Church Students' Union.

The motion passed by the union's National Executive Council condemns Israel's military presence in the West Bank and Gaza, and mandates the student body to "coordinate a nationwide student day of action to commemorate UN Palestine solidarity Day on 29 November."

An amendment supporting the BDS movement was proposed by the School of Oriental and African Studies. This too passed, with 19 voting in favor, 14 against and three abstained.

Both motion and amendment passed under a secret ballot.

The Foreign Ministry dismissed the decision, saying it "decision without any real implications made by a body which has already expressed anti-Israel opinions in the past."

"Instead of expressing hatred towards Israel, the British students should invest some time in history lessons and realize the distance between verbal hatred and prejudice to heinous crimes is not that big," the ministry said in a statement.

Related stories:

The motion accuses the IDF of "directly attacking the right to education in Gaza," noting that "UN schools and the Islamic University of Gaza were amongst the infrastructure Israel targeted during its assault on Gaza."

Israel's blockade of Gaza, the motion claims, has led to limited supply of "basic educational equipment including books, paper, computers, stationary and desks" to the Strip.

"The siege traps 1.7m people in a tiny strip of land with severely limited access to basic supplies such as food, safe water and medicine," the motion adds.

The motion also condemns the British government, saying it is complicit in Israel's actions by "supplying Israel with weaponry used against the Palestinians during last summer's Operation Protective Edge... The UK government is directly arming Israel with £180m worth of weapons sold in the period 2008-2012, including F16 fighter jet components, assault rifles, armoured vehicles and ammunition."

Britain's Union of Jewish Students (UJS) slammed the decision, saying the motion "divides student groups, undermines interfaith relations and suffocates progressive voices for peace on both sides."

"It is disturbing that supposed representatives of students throughout the UK have joined a movement that at the core is not progressive or constructive in supporting two states for two peoples," the UJS added.

UJS also note that despite claims made by the BDS movement that it does not target individuals, "Israeli individuals and academics have been blocked from delivering lectures on nothing to do with Israel or Palestine. Just look at Durban University of Technology, where they called for the expulsion of Jewish students 'especially those who do not support the Palestinian struggle.'"

Yisrael Beytenu leader Avigdor Lieberman called said the decision was hypocritical "and gives in to the diktats of radical Islam."

"I would expect students with intellectual integrity to act first and foremost against John the Jihadist and the rest of the British citizens fighting with ISIS and those who continue recruit young Brits to terror organizations on British soil. Israel is a more democratic and more enlightened country than all of those hypocritical students," Lieberman said.
University presidents against academic boycott
Israeli university presidents recently met with President Reuven Rivlin to tell him that the boycott of Israel's academic institutions is no longer just their problem - it's an issue that threatens the future of the country.
"We must put this issue at the top of the agenda because if Israeli academia finds itself boycotted, it will be a scientific and economic disaster," they told the president. "We are at 5 minutes to midnight, but we can stop this snow ball."
The group of academic leaders presented the president with a less than optimistic situation report, claiming that Israeli researchers are being refused promotions, periodicals refuse to publish articles from Israeli scientists, lecturers are choosing not to come to conferences in Israel and international companies refuse to work with Israeli researchers. All of that is done on top of protests at campuses across the world and the pressure put by international student unions to boycott Israeli academia.