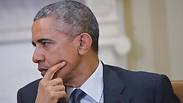 US President Barack Obama gave an intimate interview with Israeli media Tuesday night and addressed concerns that sanction relief for Iran would provide the Islamic Republic with new-found funds to cause mischief in the Middle East, saying that, "We shouldn't assume we can perpetuate the sanctions indefinitely."

Obama told Channel 2's Ilana Dayan that there were two arguments against the emerging nuclear agreement with Iran. He cited unprecedented monitoring "mechanisms" that would be in place to know immediately if Iran decided to break the agreement in an attempt to gain a nuclear weapon.

Against the argument that sanction relief would offer Iran a vast array of new economic tools to export terror around the Middle East, the president said that sanctions could not be imposed forever, and that a "snapback" system would be in place to return the sanctions in the case that Iran breaks the deal.

Obama's comments in the interview come just over three weeks before an impending deal between Iran and six world powers including the US. The deal would place inspectors in Iran to oversee a nuclear program focused on energy while reducing the number of centrifuges in operation in the Islamic Republic. Iran's current stockpile of highly-enriched uranium would also be reduced.
Israel losing its 'credibility' as a peacemaker
The president offered a bleak outlook for decades of negotiations on Palestinian statehood bearing any fruit during the 18 months he has left in office.
"I don't see the likelihood of a framework agreement," Obama said. "The question is how do we create some building blocks of trust and progress."
While Obama has acknowledged the geographical and ideological divisions among Palestinians that have bedevilled peace efforts, in the interview - taped in the White House on Friday - he focused on Prime Minister Benjamin Netanyahu's policies.
"Netanyahu is someone who loves Israel deeply," he said, adding however that he saw the prime minister as "someone who is been skeptical about the capacity of Israelis and Palestinians coming together for peace."
"I think Netanyahu is someone who is predisposed to think of security first; to think perhaps that peace is naïve; to see the worst possibilities as opposed to the best possibilities in Arab partners or Palestinian partners. And so I do think that, right now, those politics and those fears are driving the government's response," Obama continued.
He voiced concerns over Israel having a "politics that's motivated only by fear," which he said could stand in the way of peace with the Palestinians.
The US president said that Netanyahu had reinforced a belief by the international community that Israel is not committed to peace when he said there would be no Palestinian state on his watch - a statement he has since backtracked on.
"Already, the international community does not believe that Israel is serious about a two-state solution. The statement the prime minister made compounded that belief that there's not a commitment there," the president said.
Israel, he said, risked losing its "credibility" by being intransigent on the possible establishment of a Palestinian state, with Netanyahu having "so many caveats, so many conditions, that it is not realistic to think that those conditions will be met anytime in the near future."
"It's not only the immediate fear of terrorism that should concern Israel," said Obama. "If in fact we want a Jewish homeland and a Jewish democracy, this issue of the Palestinians has to be resolved."
Having said that, the president stated that Israel's immediate security was non-negotiable. "I have never suggested that Israel should trade away its security for the prospect of peace. I consider it a moral obligation for us to support a Jewish homeland," said Obama.
Obama said now was the time for a re-evaluation of "how we approach defending Israel on the international stage around the Palestinian issue".
He cited pro-Palestinian resolutions at the United Nations that Washington has long blocked in the name of encouraging direct diplomacy between the sides. Asked whether such U.S. vetoes would continue, Obama sounded circumspect.
"Well, here's the challenge. If in fact there is no prospect of an actual peace process, if nobody believes there is a peace process, then it becomes more difficult to argue with those who are concerned about settlement construction, those who are concerned about the current situation," he said.
"It is more difficult for me to say to them, 'Be patient, wait, because we have a process here.'"
Israelis and Palestinians both, Obama said, should work with the United States to "move off what appears right now to be a hopeless situation and move it back towards a hopeful situation".
AP and AFP contributed to this report.