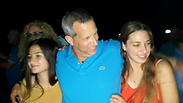 Gadi Yarkani celebrates his win with his daughters
Photo: Roi Idan
Less than a year has passed since Operation Protective Edge came to an end, since that final barrage of mortars from Gaza in which Kibbutz Nirim resident Gadi Yarkoni lost both his legs just one hour before a ceasefire went into effect.
During this time, Yarkoni has achieved the impossible: Following a long and difficult rehabilitation process, he chose to run for leadership of the Eshkol Regional Council; and on Tuesday night, he won that fight too.
Yarkoni will replace Haim Yellin, who was elected to the Knesset for Yesh Atid in the recent general election.
On August 26, at around six in the evening, about an hour before the ceasefire between Israel and Hamas went into effect, a heavy barrage of mortars rained down on Kibbutz Nirim, the Yarkoni family's home. One proved deadly.
Gadi, the kibbutz coordinator, Ze'ev Etzion, the security officer, Shahar Melamed, his deputy, and four contract workers were outside near the cowshed, where they were repairing a power line that had been damaged by an earlier hail of mortars, causing a power outage at the kibbutz.
The shell that landed near the group of men killed Etzion instantly, critically injured Melamed, who succumbed to his injuries in hospital that evening, and left Gadi severely wounded.
"I've come to the end of a three-month journey since deciding to run for leadership of the Eshkol Council," Yarkoni said at a victory party on Kibbutz Nirim on Tuesday night. "I am very happy to have completed this mission successfully too.
"Today, too, just like on other days, we are happy but also not so happy," Yarkoni continued. "I never forget my two friends Ze'evik and Shahar, who aren't here with us but are in my heart, every day, every hour. Today, as I take on this position, I remember them even more.
Gadi Yarkoni believes his beloved kibbutz, like himself, must find a way to move forwards after a mortar attack on the cusp of the Gaza ceasefire claimed the lives of his two friends - and took his legs.
"We hope and pray for peace and security in the communities of the regional council, which we will then be able to move forward. I am proud to lead this challenging and unique region and its residents, who deserve all the support in the world for their determination in settling Israel's border areas and devoting themselves to agriculture even during harsh security periods," the newly elected council leader concluded.
"Gadi is a friend who is like family, and we are proud of him and very happy that he was elected to the position," said Etzion's widow, Nava. "It warms the heart. We wish him success in all he does."
Yarkoni told Army Radio on Wednesday morning that his two friends are always with him.
"I promise one thing, I will always remember them and feel responsibility for the two families who lost the thing most precious to them," he said.
His predecessor, Haim Yellin, told the radio that, "in my opinion, there is no one more worthy of this position."