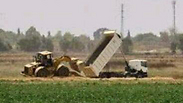 The new border road being paved by Hamas
Hamas's official website reported Wednesday that IDF had tried and failed to stop the organization's military wing from continuing the construction of a new road near the border fence. The construction of the road was first reported by Ynet.
The Hamas report stated that four bulldozers,and two vehicles had crossed the border fence, while soldiers fired warning shots. The report mentioned that two jeeps belonging to Hamas's Izz ad-Din al-Qassam Brigade military wing arrived at the scene to secure the construction site.
Related stories:
The confrontation took place on the Gazan side in the vicinity of the IDF's Sufa outpost. The IDF posted several civilian and military jeeps near the outpost.
During the approximate time of the confrontation, Hamas reported that a Gazan civilian was wounded by IDF gunfire in the vicinity of Khan Younis in the central strip. As well as a statement that five Gazan fisherman had been detained by the IDF.
The construction work, which has been documented by different sources inside the Strip, is being secured by armed uniformed men belonging to the organization's military wing, the Izz ad-Din al-Qassam Brigades.
Three days after the publication of the construction works, Hamas gave its first official reaction to the project. Fathi Hamad, the former interior minister of the Hamas government in Gaza, said the road was being built by Hamas's military wing. Hamad stated that the construction would continue until the hour of use would arise, highlighting the project's military purpose.
Israeli officials reacted harshly to the report. Avigdor Lieberman, head of the Yisrael Beytenu party, placed the blame squarely on the prime minister and defense minister.
"The Hamas report is like yelling in a megaphone to a prime minister who insists on being deaf," Lieberman stated. "The Israeli government is burying its head in the sand, and if a tragedy ensues, the writing is on the wall - the prime minister and defense minister cannot free themselves of responsibility."