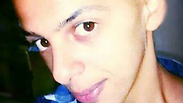 Yosef Ben-David was the driving force behind the abduction and killing of Arab teen Mohammed Abu Khdeir in July 2014, one of two minors accused of the killing told Jerusalem District Court on Wednesday, but said he never believed that it would end in murder.
Abu Khdeir, from Shuafat in East Jerusalem, was killed in early July, allegedly by Yosef Ben-David and the two minors, whose names cannot be published. They allegedly forced him into their car, drove him to a deserted spot in Jerusalem Forest, beat him unconscious and set him on fire.
"It's shocking," the minor said. "It's hard for me to believe that I was party to such a horrific incident. It;'s simply not true that I planned to kill him. I never dreamed that it would end in the way that it did."
More on this topic:
The minor told the court on Wednesday that Ben-David had been driven by the murders of three Israeli teens in the West Bank shortly before the attack.
"Ben-David was at the boys' funerals," the minor said. "He was much more enthusiastic and heated up. We met at the central bus station, bought some cigarettes and drank energy drinks to spur us on."
In his own testimony, which was obtained by Ynet last year, 30-year-old Ben-David said that, "We decided we had to take revenge for what they (the terrorists) did. (We) were saying, 'Let's avenge,' I said my blood was boiling and he said his blood was boiling and the whole country was silent and we were wondering why they did this to them, and what had they been guilty of?"
The minor told the court that on the night of Abu Khdeir's murder, "we went to the International Convention Center then he (Ben-David) already started talking about wanting to pick someone up in his car and beat him. He gave us pills to calm us down. The other youth and I said it was dangerous. We drove around for hours. He stopped next to five small children and every time we were looking for a way to get out of it. I was distressed over the children."
The minor described how they forced Abu Khdeir into their car, but said he never imagined it would end in murder.
"I was sure he would let us (the two minors) off on the side of the road. I didn't think he would take him into the woods and beat him there. I thought he would drop it. There was shouting in the car and there was tension. We reached the Jerusalem Forest, and the whole trip we held him from behind. Ben-David asked where the crowbar was, and said that they (the Arabs) have seven souls, then he gave him two blows to the head with the crowbar."
At this point in the trial, Abu Khdeir's parents burst out, and began cursing the defendant in Arabic.
"I said to Ben-David 'enough!'," the accused continued. "I got into the car and suddenly I saw a huge bonfire and understood the meaning. I didn't see with my own eyes that it was Yosef who lit it, but from what was said, he lit it."
Ben-David himself told police last year that he had set Abu Khdeir alight. According to the pathological report, the teen was burnt alive.
"I gave the boy three kicks to the legs, and saying as I did 'This is for Eyal, and this is for Naftali, and this is for Gil-Ad'." Ben-David said, referring to Eyal Yifrach, Naftali Frenkel and Gil-Ad Shaer, the three Israeli teens abducted and murdered in the West Bank in June 2014. "I took a lighter, I set the boy alight."
The minor told the court that after Abu Khdeir had been killed, "we went to Sacher Park to conceal the evidence. Ben-David gave me instructions on what to do and then went to his home in Adam (a West Bank settlement)."
Hussein Abu Khdeir, Mohammed's father, once again burst out at this time. "They had a party in Adam with a guitar!" he cried.
The defendant replied that, "Ben David said if they ask us what we did that night, we should say that we played guitar. We were in shock at what had happened."
The defendant also painted a picture of a close relationship with Ben-David, and said that he could not refuse him.
"I was very attached to him," he said. "I couldn't say no to him. I was at war with myself, I was scared to do something, but on the other hand I could not say no to him."
Ben-David, who is married with two children, has a history of psychiatric problems. He was previously arrested on suspicion of trying to kill his own baby daughter.