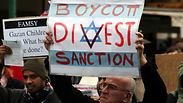 Anti-Israel protest
Photo: Reuters
Prime Minister Benjamin Netanyahu slammed the UK's National Union of Students on Wednesday for voting to join the Boycott, Divestment and Sanctions (BDS) Movement against Israel, but deciding not to take action against Islamic State.

"This is less than a year after they refused to support a boycott of ISIS," Netanyahu said in a meeting with Canadian Foreign Minister Robert Nicholson in Jerusalem. "They boycott Israel but they refuse to boycott ISIS. That tells you everything you want to know about the BDS movement. They condemn Israel and do not condemn ISIS; they condemn themselves."

Motion 518, "Justice for Palestine," passed by the NUS on Tuesday, with a majority of 19 votes in favor, 12 votes against and three abstentions.

The motion, passed by the union's National Executive Council, condemns Israel's military presence in the West Bank and Gaza, and mandates the student body to "coordinate a nationwide student day of action to commemorate UN Palestine solidarity Day on 29 November."

"Israel has an exemplary democracy," Netanyahu continued. "We have academic freedom, press freedom, human rights. ISIS tramples human rights to the dust. It burns people alive in cages and the national student groups in Britain refuse to boycott ISIS and have boycotted Israel."

An amendment supporting the BDS movement was proposed by the School of Oriental and African Studies. This too passed, with 19 voting in favor, 14 against and three abstained.

Both motion and amendment passed under a secret ballot.

Canadian Minister of Foreign Affairs Nicholson, meanwhile, expressed his country's "unwavering support for Israel."

"We understand that Israel's neighborhood is as dangerous as Canada's is peaceful, and so we know that Israel's leadership has no choice but to take at all times, every step necessary to protect itself from the forces that are openly committed to its destruction," Nicholson said.

Nicholson is one of a string of foreign officials making their way to Israel and the Palestinian territories since the inauguration last month of Netanyahu's new government, one of the most rightwing in Israeli history.

"We've long refused to be neutral in supporting Israel's right to defend itself against violent extremists," Nicholson said.

"Israel is on the frontline of free and democratic nations the world over," he added.

"Any who turn their back on Israel, or turn a blind eye to the nature of Israel's enemies, do so in the long run at their own peril."

AFP and Itamar Eichner contributed to this report.