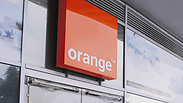 Orange
Photo: Yogev Amrani
The chief executive officer of French mobile phone giant Orange said Wednesday he would end his company's relationship with the Israeli operator that pays to use its name "tomorrow" if he could, but that to do so would be a "huge risk" in terms of penalties.

Speaking at a news conference in Cairo laying out the company's plans for the years ahead in Egypt, Stephane Richard said his company's intention is to withdraw the Orange brand from Israel as soon as possible, but that the move would take time.

"I am ready to abandon this tomorrow morning but the point is that I want to secure the legal risk for the company. I want to terminate this, once again, but I don't want to expose Orange to a level of risk and of penalties that could be really sizable for the company," he said.

French human rights organizations have been pushing their government, which has a quarter stake in Orange, and the company itself, to end the relationship over Partner Communications Ltd.'s activity in Israeli settlements in the West Bank, which are considered illegal by the international community.

In late May, five NGOs and two unions, including CCFD-Terre Solidaire, the Association France Palestine Solidarité and the CGT (France's General Confederation of Labor), had asked Orange "to publicly communicate its willingness to disengagement and denounce human rights abuses committed by Partner."

The CEO of Partner Communications Ltd., which operates under the 'Orange' brand name in Israel, told Ynet that his company was not a subsidiary of Orange and was not owned by France Télécom S.A., which owns the 'Orange' brand.

"Partner Communications Ltd. has been using the 'Orange' brand name since 1998, when the brand was still owned by Hong Kong company Hutchison Whampoa," CEO Haim Romano said. "Partner signed a trademark licensing contract with France Télécom to use the brand name, which was just recently renewed for 10 years."

"We regret the comments made by Orange France's CEO, if the comments were indeed made," Romano continued, "and completely reject the comments."

Recent negotiations have put Orange in a position where it can terminate the contract in the future, but at the moment, the legal framework is not favorable.

"Sorry to say, but a dispute with (a) partner when you have zero legal position in Israeli courts is not something that I would recommend for my company," Richard said. "I am not going to pay hundreds of millions of euros only because I would have (to) take a risk, a huge risk, in terms of the penalties that we could have if we entered into this kind of brutal process."

Richard said his company's stance on the matter was the result of its sensitivity to Arab countries.

"I know that it is a sensitive issue here in Egypt, but not only in Egypt... We want to be one of the trustful partners of all Arab countries."

He added that the brand fees from the contract with Partner were low compared to the size of Orange, saying that "the interest for us is certainly not a financial interest."

"If you take those amounts on one side and on the other side the time that we spend to explain this, to try to find a solution and the consequences that we have to manage here but also in France, believe me it's a very bad deal," he added.

Deputy Foreign Minister Tzipi Hotovely spoke to the Israeli Embassy in Paris following the Richard's comments and said she intends to send an urgent letter to him in protest of his comments.

If the French company goes ahead with its CEO's intentions, Partner would no longer be able to use the 'Orange' brand name, but the move would not affect the services Partner was providing Israeli consumers.

France Télécom will likely have to pay a hefty fine to get out of its contract with Partner, estimated at hundreds of millions of dollars.

According to its website, Partner Communications Ltd. has 2.77 million subscribers in Israel, representing a market share of 28 percent.

Itamar Eichner, AFP and the Associated Press contributed to this report.