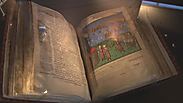 'Jewish literary heritage united with some of finest illuminations from Italian Renaissance'
Photo: Eli Mandelbaum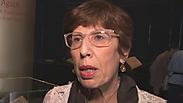 Daisy Raccah-Djivre, chief curator of the Israel Museum's Jewish Art and Life Wing
Photo: Eli Mandelbaum
About 570 years ago, artists handcrafted two volumes of Mishneh Torah, the code on Jewish religious law written by Jewish philosopher Rabbi Moses Maimonides. About 370 years later, the two magnificent and rare volumes were separated. Last week, they were reunited at the Israel Museum in Jerusalem after 200 years.

The rare volumes were created in Italy around 1457. They are considered two of the few illustrated copies of this text which still exist in the world. They are believed to have been handcrafted by at least two manuscript artists in northern Italy.

Maimonoides wrote the Mishneh Torah between 1170 and 1180, while he was living in Egypt. It is widely regarded as the rabbi's magnum opus.

Book of Books

Unprecedented collection of religious texts unveiled at Bible Lands Museum in Jerusalem.

The two volumes were separated in the first half of the 19th century, each finding its way through a long and winding road into a different collection. One was purchased by a book collector from Rome, Giovanni Francesco de Rossi, in the 19th century. In 1921, it reached the Vatican Library.

At around the same time, the second volume reached different collections in Germany and the United States, until it was purchased by Judy and Michael Steinhardt in New York. This volume is now co-owned by the Israel Museum and the Metropolitan Museum of Art in New York.

The magnificent manuscript that arrived from the Vatican includes an introduction and the first five books of Mishneh Torah. It is adorned with four beautiful title pages and dozens of smaller panels handcrafted by an artist.
'Meaningful cultural exchange'
Daisy Raccah-Djivre, chief curator of the Jewish Art and Life Wing, told Ynet excitedly: "The extraordinary thing is that the two volumes which were created in 1457 are finally together again in Jerusalem after such a long time."

Israel Museum Director James S. Snyder said that "thanks to the Vatican Library's unusual gesture to the Israel Museum's Jewish Art and Life Wing, we can display the two volumes of Maimonides' magnificent and important manuscript, Mishneh Torah, side by side in Jerusalem.

"This manuscript," he added, "is a rare treasure that unites Jewish literary heritage with some of the finest illuminations from the Italian Renaissance. This lending is a rare and meaningful example of the cultural exchange between Israel and the Vatican City State."