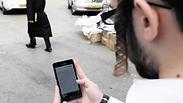 'People are being lured into taking a kosher cell phone'
Photo: Shlomi Cohen
The rabbinical battle against the Internet has reached the synagogue: A synagogue in Jerusalem's Bukharan Quarter recently announced that a person who owns a cellular phone with Internet access or text messages will be banned from serving as a cantor or reading the Torah.

According to an announcement made by the Musayof Synagogue, which is considered a Shas stronghold in the neighborhood, the synagogue manager and the great sages of the generation, led by late Rabbi Ovadia Yosef, "A person in possession of a non-kosher phone cannot serve as a leader in prayer."

War on Technology

Halachic ruling issued by Rabbi Karelitz says because advanced cellular phone is 'not kosher,' there is no obligation to give it back to its owner

While the ultra-Orthodox leadership has been radicalizing its attitude towards haredim who use cell phones that have not been authorized by rabbinical committees, Rabbi Yosef Cohen publicly expressed his negative opinion about the strict rabbis last week.

"It's not true what all the rabbis say, that one must not possess a non-kosher phone," he said. "Everything in the world can be exploited for kashrut purposes. I don't have an iPhone, and I don't know how to use one, but I have heard from God-fearing people that they are blocked and can't commit any offense with it," the rabbi stated in his weekly lesson at the Bukharan Quarter.

During the lesson, which was quoted by the Haredim 10 website, Cohen lashed out at Ashkenazi rabbis, accusing them of being greedy. "Everyone must have a kosher number. Why? Because the Ashkenazi rabbis have to steal people's money? Where is it written? They go to rabbis who don't understand what a phone is and how to speak on a phone – and they are lured into taking a kosher cell phone. It's wrong," he said.