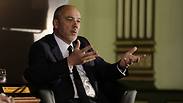 Orange CEO Stephane Richard
Photo AP
Israeli leaders voiced their anger on Thursday following telecommunications giant Orange's decision to end its brand licensing deal with the Israeli firm Partner Communication and quit its operations in the country.
"The absurd play in which Israeli democracy defends itself against rocket attacks and terror tunnels and takes automatic condemnation and boycott attempts will not be forgiven," said Prime Minister Benjamin Netanyahu.
"I call on the French government to publicly renounce the unfortunate remarks and actions of a company partly owned by the French government. At the same time, I call on our closest friends to say out loud that they oppose every kind of boycott against the Jewish state."
"The contract between Orange and Partner was signed a decade ago, said Partner owner Haim Saban. "Orange is a brand and Partner is an Israeli company that has the exclusive right to use the Orange brand in Israel," he explained. "Threats will not dissuade me…
"No CEO of a foreign company will dictate to whom we provide service, where we provide service, and when we provide service in Israel," he continued.
Partner CEO Haim Romano warned that Orange would pay a price if it cancelled the arrangement. "We have not received anything official," he said. "For now we will demand an apology and clarifications of what their CEO said."
Economic Affairs Committee Chairman MK Eitan Cabel called on Partner-Orange subscribers not to rush to cancel their services. "Everyone who is leaving Partner Israel now becomes an involuntary and unwitting tool in the hands of the Israel haters."
"Disturbingly, I have yet to hear condemnations from France's heads of state of the statements by the CEO of France Telecom like those I heard from Britain, and I expect their voices to be heard here in Israel, in Cairo, and the entire world," said President Reuven Rivlin.
Orange denied any political motivation for the decision to cease operations in Israel in a press release. It said the the move is "in conformity with its brand policy." The company added that it "has no reason to take part ... in a debate of a political nature."
Orange Chief Executive Stephane Richard said in Cairo on Wednesday he wanted to end the agreement, even though there was a huge risk of financial penalties from doing so, and that the decision was in part due to the firm's relations with Arab countries.
Israeli Ambassador to France Yossi Gal called on the French government to condemn the remarks.
Gal issued a complaint Thursday to the Elysee Palace over Paris' lack of response to Richard's support for a boycott of Israel. He also contacted the French Foreign Ministry and Economy Ministry to express the gravity with which Israel views the remarks.
The French embassy in Israel has also refrained from publishing a condemnation of Richard's remarks. The French government owns around 25% of the global cellular giant.
In comparison, the British embassy in Israel was quick to officially condemn a decision by the National Union of Students earlier this week to join the boycott movement against Israel.
Speaking Wednesday in Cairo, Richard said that if it were up to him, Orange would terminate its relationship with Partner as soon as possible.
"I am ready to abandon this tomorrow morning but the point is that I want to secure the legal risk for the company," he said. "I want to terminate this, once again, but I don't want to expose Orange to a level of risk and of penalties that could be really sizable for the company."
Meanwhile, the new head of Israeli telecommunications company Partner, which is Orange's affiliate in Israel, threatened Thursday to sue over Richard's comments.
"Stephane is under intense pressure from pro-Palestinian activists," Partner's incoming CEO Itzik Benvenisti said. "We are very angry about the statement, which indicates that he was under great pressure, and it hurts us. We will consider suing him."
The remarks sparked a furious response in Israel. Culture Minister Miri Regev on Thursday called on French President Francois Hollande to fire Ricahrd.
Regev said Hollande should show "zero tolerance" for what she said was anti-Semitism and urged Jewish customers of Orange around the world to change carriers.
Some Israeli users of social networks called for dropping Orange, but Partner was quick to clarify that the Israeli company only uses the Orange brand name.
"We are an Israeli company owned by the Israeli public, owned by Haim Saban, who is active throughout the world on behalf of Israel," Benvenisti said. "This is a national problem, not just ours."
"There are companies in the world that use the Orange brand name and we will continue to use it," said Benvenisti. "In the West there are parties trying to isolate us as a country, and cutting them off is acquiescing to those very parties.
"You saw the reactions of MKs Gilad Erdan and Naftali Bennett. The issue is very acute for our country, we can not afford to be an isolated country. I saw foolish posts against our company, and abandoning Orange means giving in to those pressures. The damage is enormous and we are considering what steps to take."
Meanwhile, Partner employees responded to Richard's comments Thursday by covering the Orange logo with an Israeli flag during a protest outside the French company's local offices in Rosh HaAyin.
At Partner they stressed that the public has not been abandoning Orange. "It is a public company. If there is abandonment we'll report it."
In addition, Partner issued a letter to its employees following the recent events.
"We would like to update you to the effect that a strongly-worded letter to senior figures and the owners of France Telecom France will be sent out today which claims that the Orange brand in Israel was violated and damaged, and in which we will claim our rights.
"We also call on France Telecom's CEO thusly: Suit yourself and pay the hundreds of millions of euros that we invested with great effort over the years. With this payment we will invest in our customers, in building our country and in the citizens of the State of Israel."