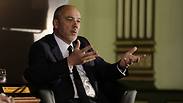 French telecoms operator Orange said on Thursday it planned to end its brand licensing deal with the Israeli firm Partner Communications, a day after comments by its chief executive drew criticism from the Israeli government.

"In line with its brand policy, Orange does not want to keep its brand presence in countries where it is not an operator. Within this framework, and while strictly respecting existing accords, Orange would like to put an end to this brand licensing," it said in a statement.




Orange denied any political motivation in the decision to cease operations in Israel in a press release. It said the the move is "in conformity with its brand policy." The company added that it "has no reason to take part ... in a debate of a political nature."

Partner has yet to issue a statement in response, but may demand compensation. Parner pays around NIS 15 million a year to Orange for use of the brand.

Orange Chief Executive Stephane Richard said in Cairo on Wednesday he wanted to end the agreement, even though there was a huge risk of financial penalties from doing so, and that the decision was in part due to the firm's relations with Arab countries. Orange said his comments were taken out of context.

Deputy Israeli Foreign Minister Tzippi Hotovely sent a letter to Richard on Thursday asking him to clarify his position and to refrain from "being party to the industry of lies which unfairly targets Israel," the letter sent to Reuters by the embassy read.

Israeli Ambassador to France Yossi Gal called on the French government to condemn Richard's remarks. He also contacted the French Foreign Ministry and Economy Ministry to express the gravity with which Israel views the remarks.

Culture Minister Miri Regev called on French President Francois Hollande to fire Ricahrd.

Regev said Hollande should show "zero tolerance" for what she said was anti-Semitism and urged Jewish customers of Orange around the world to change carriers.

Meanwhile, the new head of Israeli telecommunications company Partner, which is Orange's affiliate in Israel, threatened to sue over Richard's comments.

"Stephane is under intense pressure from pro-Palestinian activists," Partner's incoming CEO Itzik Benvenisti said. "We are very angry about the statement, which indicates that he was under great pressure, and it hurts us. We will consider suing him."

Attila Somfalvi and Itamar Eichner contributed to this report.