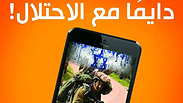 The Eygptian BDS social media campaign against Orange
Even before the CEO of Orange's statement in Cairo declaring his intent to cut ties with Israel, and the official confirmation of termination of said ties, there were Egyptians who pressured the company – and possibly led to Stephane Richard to make the comments.

Follow Ynetnews on Facebook and Twitter

The BDS movement in Egypt recently enacted an intensive campaign against "Mobinil" -- the parallel company to Israel's "Partner", which has a contract with Orange.

A campaign titled "Boycott Mobinil" was established on Egyptian social networks, blaming the company for having worked with Israel, and even supporting IDF units who served during operation Protective Edge.

In a letter that was sent by the campaign to Orange and Mobinil, the companies where asked to cancel the "embarrassing" contract that was signed, extending the cooperation with Israel's Partner until 2015. "Until Orange takes the moral step and cancels this shameful contract, the popular Egyptian campaign to boycott Mobinil will continue and intensify.

French telecoms operator Orange said on Thursday it planned to end its brand licensing deal with the Israeli firm Partner Communications, a day after comments by its chief executive drew criticism from the Israeli government.

The move predictably angered many politicians, including Prime Minister Benjamin Netanyahu. "The absurd play in which Israeli democracy defends itself against rocket attacks and terror tunnels and takes automatic condemnation and boycott attempts will not be forgiven," said Netanyahu.

"I call on the French government to publicly renounce the unfortunate remarks and actions of a company partly owned by the French government. At the same time, I call on our closest friends to say out loud that they oppose every kind of boycott against the Jewish state."

Orange's deputy director Pierre Louette told AFP that the company would continue to run a research centre and an online media services enterprise in Israel.

"We are not withdrawing from Israel," he said, adding that "one must not try to make a big deal out of a simple issue of company rights".

AFP contributed to this report.