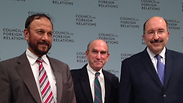 Photo: Yitzhak Benhorin
Photo: Yitzhak Benhorin
Dore Gold, a former Israeli ambassador and the incoming Foreign Ministry director-general, stood side by side with Anwar Eshki, a former Saudi general on Thursday at the Council on Foreign Relations in Washington.

They both shook hands in front of Middle East experts and senior American journalists, with both the Israeli diplomat and Saudi general talking in turn about their joint enemy - Iran.

When listing Saudi's goals, Eshki listed "peace between the Arabs and Israel" as a top priority. Another objective Eshki listed was "a change in Saudi's policy towards Iran," which he called a country that acts in order to conquer and control the Middle East.

Gold said, "Both of our countries have run into the same problem - Iran, the creative creator of ethnic tensions to further its expansion." Gold continued to predict that the impending nuclear deal with Iran would turn the Islamic Republic into a nuclear threshold state like North Korea.

The Saudi General nodded in agreement as Gold spoke about the Iranian threat and the Israeli concluded by addressing Eshki saying, "I am honored to have worked with you over the past year, General Eshki." The two then stood and shook hands firmly.

"I came from my research institute with the first priority to promote peace in the Middle East," said the general. "We don't want the conflict."

Eshki added that there wouldn't be any meetings between Saudi and Israeli officials until the Arab peace initiative was recognized. "Netanyahu needs to accept the initiative," he said. "We need to solve these problems. There are no barriers between us; Israelis and Saudis can act together when Israel announces that is accepts the King Abdullah's peace initiative.

"When I'm asked 'who's your enemy, Iran or Israel?' my answer is that a smart enemy is better than an ignorant partner."

Gold said that the two had met five times over the last year and that, "We have common interests in regional issues, but there are also disputes.