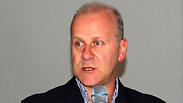 The dean of the Federal University of Santa Maria in the State of Rio Grande do Sul in Brazil recently circulated a memorandum, requesting a list of Israeli lecturers and students studying in the institution. The dean gave the directive at the request of, among others, the Association of Solidarity with the Palestinian People of southern Brazil. The memorandum was stamped with the inscription "Freedom for Palestinians - boycott Israel," but the university says the stamp was a forgery.

The controversial memo was sent by Professor Jose Fernando Schlosser, dean of post-graduate studies at the university. On May 15th he posted the document, which he signed, on the internet, as well as on the university's bulletin board. "I ask you to urgently send us a list of Israeli students and lecturers in the graduate program", the dean wrote.

The dean did not specify in the document the reason he requested the list, but specified that this was done in response to the request of several bodies, including the student union, the teachers' union, and the Association of Solidarity with the Palestinian people of southern Brazil.

The university confirmed the authenticity of the document, but argued that the stamp "liberate Palestine – boycott Israel" was forged and was not written by the dean. The university also claimed that the document constitutes a response to a request made in accordance with the law on the freedom of information. It was also noted that the police were contacted and asked to investigate the forgery. |The attorney general of the State of Rio Grande do Sul announced it is opening an investigation into the dean on the suspicion of discrimination based on race, color, ethnicity, religion and national origin.

The university's rector, Professor Paulo Afonso Burmann, strongly denied his university's giving a hand to boycotting Israel and discriminating against Israelis. He added that the university never takes stands on historical international disputes.

Various media outlets in Brazil attacked the document issued by the dean, even accusing him of "a shocking act of anti-Semitism", which constitutes a violation of the Brazilian Constitution which forbids racism. Articles in various media outlets claim that the purpose of creating a list with the names of the Israelis was to confiscate their courses and harass Israeli students and lecturers.

The Foreign Ministry said in response: "This is a very serious incident and the Brazilian embassy and the Israeli Consulate in Sao Paulo, along with the Jewish community, are acting immediately to address the ugly and racist initiative. The labeling of people and their blacklisting remind us of dark days of humanity's history. We hope that the Brazilian academy will pull itself together and come out against this initiative ".