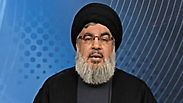 Hezbollah Secretary General Hassan Nasrallah
Photo: Reuters
A Cypriot court extended the detention of a Lebanese-Canadian man on Friday over the discovery of five tons of chemical fertilizer in a case Israel says bears the hallmarks of the Hezbollah guerrilla group.
Authorities detained the 26-year-old man, holder of a Canadian passport, in late May after finding ammonium nitrate, a potential explosive, in the basement of a home in the coastal town of Larnaca where he had been staying.
Security sources say authorities are looking into a possible link with Iranian-backed Hezbollah, a claim also made by Israel, but the suspect denies any connection with the group or the hoard of chemicals.
"He denies all connection with Hezbollah," his lawyer, Andreas Mathikolonis, said.
Mathikolonis said the man had happened to be at the property because his family was considering renting or buying the property.
A magistrate in the coastal town of Larnaca ordered that the man, who has not been publicly identified, remain in custody for a further eight days. The case was heard in camera, with authorities citing national security to prevent media leaks.
A security source said about five tons of ammonia nitrate had been found in the basement of the Larnaca property, mixed in with icepacks, with the total haul including the icepacks amounting to about 15 tons.
"We are looking into how long it was there," said the source, adding it could have been many months or even a couple of years. The authorities have established how it arrived in Cyprus, the source said, declining to elaborate.
Ammonium nitrate, if mixed with other substances, can become a very powerful explosive. Under Cyprus anti-terrorism laws, anything that can be used potentially as an explosive, with probable cause, is an offense.
Israel says attacks planned
Fertilizer-based bombs remain the explosive of choice for many militant groups across the world.
They were used in the 2002 Bali bombings, which killed 202 people, and in attacks in 2003 on the HSBC bank headquarters and the British Consulate in Istanbul in which 32 people died.
Cyprus has said little about the case, but Israeli Defense Minister Moshe Ya'alon, citing information he said he received from Cyprus, said the fertilizer had been intended for bombs.
"These were apparently meant to be ready for attacks on us," he told reporters on Monday, referring to Israelis or Jews in Cyprus or elsewhere in Europe. He said the explosives might also have been intended for attacks against Western targets.
Cyprus is a popular holiday destination for Israelis. It is in the European Union and hosts two British military bases.
The island has little militant-related activity despite its proximity to the Middle East. Its last major security incident was a botched attack on the Israeli embassy in 1988, which killed three people.