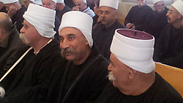 Illustration
Photo: Hassan Shaalan
The Druze and Circassian communities in Israel will go on strike Sunday and plan a mass protest rally in front of Kiryat HaMemshala (the government complex) in Jerusalem, saying government funds promised to them were not transferred.

Druze community leaders even decided to cancel an annual appreciation day for the Druze soldiers, which would have otherwise been marked on Sunday.

Organizers of the protest planned for Sunday expect several thousands to attend.




The heads of the Druze community say that while the government approved in December a budget of NIS 2.5 billion for education in Druze and Circassian communities, only NIS 30 million were transferred by February, out of the initial sum of NIS 183 million that was supposed to be transferred.

The head of the Yanuh-Jat council, brig.-gen. (res.) Maada Hasbani, said, "After 67 years of common destiny, we have to conduct a self examination. We should be fighting for the borders of the country, not for our rights."

The Druze community is also worried with the fate of the Druze in Syria in the event the Assad regime collapses.

Druze spiritual leader Sheikh Muafaq Tarif and former minister Salah Tarif met this week with US Ambassador to Israel Dan Shapiro to discuss the plight of the Druze people in Syria.

There are some 800,000 members of the Druze community in Syria, and many of them have family members in Israel, they told Shapiro.

"Daesh's brutality and lack of humanity keep me up at night," Hasbani said, using the Arabic-language acronym for the Islamic State group. "Israel must work in diplomatic channels to increase international involvement. We can't sit idle and look away."