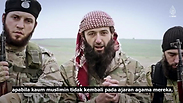 The jihadist in the video
Islamists claiming to be members of the Islamic State (IS) group called for jihad in the Balkans in a video widely reported Friday by local media, on the eve of a visit by Pope Francis to Sarajevo.

The 21-minute video, made in a slick style and carrying the logo of a production company linked to IS propaganda, appears similar to other videos released by the group.

The video does not make any reference to the pope's visit and it was not possible to determine when and where it was recorded.

Clip from the new ISIS propaganda video

The video features a dozen jihadists presented as being from Albania, Bosnia and Kosovo. Some of them speak in Bosnian and Albanian, and they wear hats and gloves.

It was not the first video in which Islamists from the Balkans have called for jihad, but its impact was amplified by the proximity to the pontiff's visit.

In the video a Kosovo Albanian, introduced as Abu Muqatil Al-Kosovo, said "misbelievers" in the Balkans would face "horrible days".

The pope arrived in the Bosnian capital Sarajevo on Saturday, where he held a mass for 65,000 at the city's Olympic Stadium, urging Bosnians to seek lasting ethnic and religious harmony to heal the deep, lingering wounds of the 1992-1995 war that devastated the former Yugoslav republic.

Experts say Francis's visit represents a significant challenge for the security forces in the country that has become a fertile ground for homegrown jihadists.

Bosnian Muslims, who make up 40 percent of the country's 3.8 million inhabitants, are mostly moderate.

But the strict interpretation of Islam by the foreign fighters who fought in Bosnia during the 1992-1995 war has been adopted by some locals 20 years later.

Some 200 Bosnians are believed to have joined groups fighting in Iraq and Syria, with around 50 believed to have already returned to Bosnia, the intelligence services estimate.

To prevent them travelling abroad, the authorities have amended the law so jihadists and their recruiters face up to 20-year jail terms.

Reuters contributed to this report.