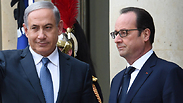 Prime Minister Benjamin Netanyahu with French President Francois Hollande (Photo: AFP_
Photo: AFP
President Francois Hollande, in a conversation with Prime Minister Benjamin Netanyahu Sunday evening, expressed his strong opposition to boycotting Israel and expressed a desire to maintain economic ties between the two countries.

Netanyahu spoke with the French president about the agreement being drawn up between Iran and the world powers and expressed growing concern regarding it.

Moreover, Netanyahu repeated his commitment to a two-state solution, and expressed his opposition to any attempt to impose a settlement on Israel, which he said would worsen the possibility of reaching a final settlement.

Meanwhile, Netanyahu instructed extended an invitation for Orange's CEO, Stephane Richard, to come to Israel to give his explanations for his controversial statement.

This followed Richard's call Friday to the Israeli embassy asking for an urgent meeting with the Israeli Ambassador in order to apologize. The embassy told him that his request would be examined. The issue was brought to the attention of the Prime Minister and the Deputy Foreign Minister, Tzipi Hotovely for a decision.

Israel deliberated the matter and the concern was that the meeting would convey the message that Israel had forgiven him, despite the heavy damage caused by his statement in Cairo. In the end, the decision taken was to go for a compromise: If the CEO wants to apologize, he is welcome to come and do it in Israel. Already on Saturday the Prime Minister hinted that he did not accept Richard's apology . Netanyahu said that Richard's words of admiration of do not offset his hostile comments in Cairo.

Richard created a storm early last week, when, against the backdrop of pressure applied by boycott supporters on his company, he said in Cairo that he would be happy if his company suspended its operations in Israel. Later on, he and his company said that Orange's desire to leave stems from economic factors and company policy not to operate in countries where it is not a cellular operator but only provides its brand name to a local company. In Israel the company Partner uses the Orange brand name but beyond that there is no connection between the companies.

In recent days, it seems Richard is doing his best to atone for his mistake. In an interview with Ynet and Yedioth Ahronoth on Friday he claimed that the decision to terminate the agreement with Partner in Israel is not a political decision. "I want to emphatically say that I am hurt by the idea that someone thinks we want to leave the country for political reasons," Richard said, rejecting claims he was cooperating with BDS. "We are friends of Israel, this has nothing to do with Israel, we love Israel. My words were misunderstood. I was talking about a purely financial matter".

Saturday he told Agence France Presse: "We are in Israel and we are there to stay. I'm sorry from the bottom of my heart about the uproar created."
Emergency recruitment at the Jewish Agency
In light of the strengthening boycott against Israel throughout the world, the Jewish Agency will increase the number of its emissaries on campuses from 69 to 85. Also, for the first time, Agency emissaries will enter campuses in Germany and South Africa. Currently, the 65 emmisaries to 120 campuses in North America are there to strengthen local students' connection to Israel and to bolster pro-Israel activists. Four additional emissaries serve major campuses in the UK, France and Australia. Overall, the agency intends to cover 170 campuses worldwide attended by hundreds of thousands of students.
The emissaries are young graduates serving on overseas campuses for an extended period and who consider this a national mission of special importance in these time.
In the upcoming months, a Jewish Agency educational center will be founded in Jerusalem specialized in training Israeli emissaries. Jewish Agency Chairman Natan Sharansky said: "Our effort doesn't purport to transform our enemies into friends, but is rather designed to prevent sowing confusion among young Jews that distances them from Israel. Emissaries work to bring young Jews into contact with the Israeli experience, get them involved in Israel affairs and develop a sense of caring for the State of Israel. ".
The Jewish Agency will employ about 1,600 Israelis this summer who were trained to deal with the effects of hatred towards Israel and the Jewish people. 1,200 of them are young people who will serve in North American summer camps, and another 400 will serve an extended period of time in Jewish communities and will work to deepen ties with Israel and expose Jews abroad to expose the possibilities of making aliyah to Israel