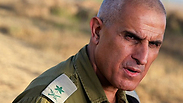 Photo: Motti Kimchi
Photo: Motti Kimchi
GOC Southern Command Sami Turgeman on Sunday night told mayors of towns bordering Gaza that Israel won't launch a military operation in Gaza in response to sporadic rocket fire from the Strip that lands in open areas.

Turgeman did stress however, that the military would respond accordingly in such instances, most likely with targeted air strikes - as seen in the early hours of Sunday morning.

Hamas, claimed Turgeman, is working hard to prevent sporadic attacks like the three instances seen in the last several days - rocket strikes for which Islamic State supporters claimed responsibility.

The general added that great effort was going toward increasing the IDF's defense capabilities against such attacks from rockets and tunnels dug by Hamas.

The mayors at the meeting told Turgeman that they understood that the situation was complicated and said that they trusted the IDF to act appropriately.

After the meeting, head of the Sdot Negev Regional Council, Tamir Idan, said that he had asked Turgeman to consider changing the air raid sirens in the south to a voice that would announce the words "Code Red", possibly helping the ease the shock of the sirens. According to Idan, Turgeman promised to consider the request.

Meanwhile, Defense Minister Moshe Ya'alon decided Sunday that the Kerem Shalom and Erez border crossings with Gaza would reopen as usual Monday morning after they were closed all day Sunday in reaction to Saturday night's rocket fire.

IS supporters in the Gaza Strip claimed responsibility for the single rocket that was fired toward Ashkelon and fell in an open area near the city. No one was injured and no damage was reported in the attack.

Recent reports from the Gaza Strip have indicated that Hamas is in the midst of a crackdown on IS-affiliated individuals in the enclave. One man was killed in a related gun fight last week when Hamas authorities tried to arrest him.