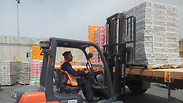 Goods being brought through Kerem Shalom Crossing (Archive)
Israel was to reopen its border crossings with the Gaza Strip on Monday, the IDF said, after closing them in the wake of a series of rocket attacks from Gaza.

"I can confirm that they are opening," an IDF spokeswoman.

Israel Air Force warplanes struck Gaza early Sunday for the second time in three days after rocket fire Saturday from an Islamic extremist group locked in a power struggle with Hamas, the de facto power in the Strip. No one was wounded in the rocket attack.

The government also ordered the closure until further notice of the Erez crossing for people and the Kerem Shalom crossing for goods.

Palestinian security sources and witnesses said latest Israeli air strike hit a training site of Hamas' armed wing, the Izz a-din al-Qassam Brigades, in the northern Beit Lahiya area.

A Salafist group that sympathizes with Islamic State, the "Omar Brigades," who claimed responsibility for the last two rocket attacks on Israel, did so again Saturday night.

The group said the rocket aimed at Ashkelon was in solidarity with Palestinian prisoners held in Israeli jails, and their own members incarcerated in Hamas-controlled jails in Gaza.

"The Jews will never enjoy security and safety as long as we are alive," the group said in a statement.

Since the end of a deadly 50-day war between Israel and Gaza militants last summer, there have been at least eight instances of rocket or mortar fire on southern Israel, the IDF says.