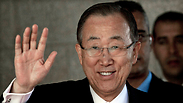 Secretary-General Ban Ki-moon's new list of parties that kill or injure children in armed conflict does not include Israel or Hamas, as some UN officials had recommended.

But the UN chief also said in the report circulated Monday that the killing and injuring of Palestinian children in Gaza and the West Bank is unacceptable.

Ban urged Israel "to take concrete and immediate steps, including by reviewing existing policies and practices, to protect children, to prevent the killing and maiming of children, and to respect the special protections afforded to schools and hospitals."

He also urged Israel to ensure accountability for perpetrators of alleged violations and to engage in talks with the UN special envoy for children in armed conflict, Leila Zerrougui, "to ensure that there is no recurrence."

The UN secretary-general's envoy for Children and Armed Conflict had recommended that the IDF be included the blacklist of countries and organizations accused of regularly causing harm to children.

The UN also faced heavy pressure from the Palestinians, their supporters and human rights organizations to include the Israeli army on the list.

The Associated Press contributed to this report.