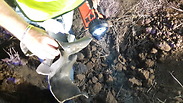 Remains of rocket that fell in Nativ HaAsara.
Photo: Roi Idan
After a series of rocket strikes from Gaza, residents of southern Israel who had been hoping for a quiet summer to make up for last year's war, again find themselves in a state of uncertainty.
"We had a crazy night to the accompaniment of IDF bombings," said Aviva Fuld from the Netiv HaAsara moshav, referring to Saturday night's attack and Israeli response.
"We woke at three in the morning and weren't able to get back to sleep afterwards. Unfortunately, I have a feeling that the summer is going to be just like the last one. It's unacceptable, and we shouldn't have to come to terms with the situation.
"We want a quiet summer, without air raid sirens and without having to pick up and move all over the country. We simply want to be at home and to enjoy ourselves."
Speaking Sunday at the opening of a film festival in Sderot, President Reuven Rivlin also commented on the current tension in the south.
"When I was asked if I am going to Sderot this evening, I didn't understand the question," Rivlin said. "Tel Aviv, Jerusalem, Sderot – they're all the same. No one will disrupt our lives."
The rocket that was fired Saturday night from the Gaza Strip was found on Sunday in a field of sunflowers in the Hof Ashkelon Regional Council. Once again, the Israel Defense Forces responded to the rocket fire and launched air strikes against targets in the Strip; and residents of the south have expressed fears about a "rerun" of the events of last summer.
At a meeting Sunday night with GOC Southern Command Major General Sami Turgeman, leaders of the Gaza-border communities expressed concerns about a potential escalation in the area and asked the senior IDF officer for a report on the current situation.
Turgeman said that while Hamas was indeed making efforts to prevent the rocket attacks, Israel still held the organization responsible for the incidents and would respond accordingly whenever necessary. The major general also said that the IDF would not mount an operation in Gaza in response to sporadic rockets that land in open areas.