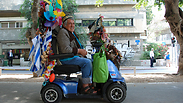 Israeli photographer and journalist Erez Kaganovitz started the Humans of Tel Aviv blog in 2012 in order to show the world the "true face of Israel." Now, Erez is planning a travelling exhibition of the photos, which will be hosted at college campuses across the US in an effort to fight the BDS movement.

"The exhibit shows the world the real people who live here, so they will understand that Israelis are not war criminals, and Israel is not an apartheid state.

Kagnovitz, 31, has so far uploaded the photos and personal stories of 750 Tel Avivians to the Humans of Tel Aviv Facebook page, and now is looking for donors to help him build his project.

"I'm sure that once people are exposed to the project, and get to know the real Israelis, they will understand who we really are," he said.

Erez continues: "I've spoken to a few Israeli philanthropists, including Haim Saban, (asked them to) pick up the gauntlet."

Most of the project's followers are Americans between the ages of 18 to 35 - the generation with which Israel is losing the most ground.

"This is the audience Israel should aim for. They aren't willing to take any BS, and they are very critical. Because of this they respect this project and understand that we are not trying to feed them prepared statements," Kagnovitz added.

Erez says that in his opinion, he is not doing "hasbara" (diplomatic PR), and clarifies that he is not being funded by anyone.

"I'm not trying to bend reality; I am not trying to sugar coat the reality or 'whitewash' Israel. What you see is what you get," he said.

"I was fortunate enough to travel the world, and when I presented myself as an Israeli, most people would give me a weird look and say, 'Israel, isn't that the country that's always at war? One of the most threatened countries in the world?' In recent years, words like 'apartheid', 'war crimes' and 'child killer', have come up in this context and this drove me crazy," Erez said.

"I always told myself that if I was able to show the world the real people who live here, they would understand that there are no war crimes or apartheid state, but a multi-cultural state that respects human rights," he said.




.

Kagnovitz walks around Tel Aviv with his camera and takes pictures "of people who look interesting to me."

Afterwards he asks every subject to tell him a few things about their life. "You wouldn't believe what stories people are willing to tell you if you're truly listening. This peek into the life of an Israeli shows people all over the world that there are sane people here, who are artists, who believe in democracy, and who want to live in peace and dignity," he said.

"The Facebook page allows me to present the crazy palate of multi-culturalism in Israel - Jew, Arab, Muslim, Christian, African refugees, homeless people, hipsters from Florentine, and the elderly from Rothschild - everyone and their story.

"I have 5000 followers from all over the Arab world; Iran, Pakistan, Egypt, Syria, and Saudi Arabia among them. We got a lot of emails from the Arab world saying they are shocked at what they see, having thought that Israelis have horns and a tail," Erez says.

Kagnovitz started the project three years ago on Facebook, Tumbler, and Instagram, and currently has 40,000 followers. His Facebook page has 350,000 visitors a month - impressive figures for never having spent a dime on advertizing. Erez was inspired by the Humans of New York page which became a web sensation. Today, there are 500 similar pages from cities all over the world.