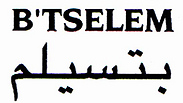 B'Tselem, one of the NGOs that would be affected by proposed legislation
Legislation being proposed by Justice Minister Ayelet Shaked threatens to severely limit the work of scores of Israeli NGOs that receive millions of dollars each year in donations from foreign governments and foundations.

While the legislation is in draft form, Bayit Yehudi's Shaked says she is determined to crack down on those who take foreign money and then criticize Israel, accusing the NGOs of "eroding the legitimacy of Israel to exist as a Jewish and democratic state".

An earlier legislative draft she submitted before rising to cabinet rank after a March election proposed a tax of up to 45 percent on foreign donations unless otherwise approved by a committee of defense and foreign ministry officials.

From the point of view of advocacy groups, the proposals are a dangerous step that would put Israel in a category with the likes of Russia, Turkey and neighboring Egypt, which often struggle to accept internal criticism and have banned some NGOs.

"A super-enormous battle is being waged for the future of our society," said Sarit Michaeli, a spokeswoman for B'Tselem and a veteran activist who has spent years gathering evidence of alleged transgressions in the West Bank.

"What we have here are many years of intense efforts to discredit Israel's human rights community, primarily related to our work exposing human rights violations."
'Attack on sovereignty'
Showing the government is determined to penalize those it believes are tarnishing Israel, Culture Minister Miri Regev said on Wednesday she will cut state funds for artists who are deemed to be overtly sympathetic to the Palestinian struggle.

"Whoever delegitimizes the State of Israel will not get budgets from the state," Regev told Army Radio, promising to withdraw funds from an Israeli Arab actor who had refused to perform in a Jewish settlement in the Jordan Valley.

Amongst the projects to be hit are a mixed-race children's theatre that the actor, Norman Issa, runs near Tel Aviv. Issa said he felt he was being "extorted" over his political views.

There are more than 30,000 NGOs registered in Israel, about half of them active. But the focus of frustration for Shaked and her supporters are around 70 whose work focuses on the Israeli-Palestinian conflict and which receive funds either from the European Union as a whole, or individual governments, including Denmark, Sweden, Belgium and Norway.

NGO Monitor, an Israeli group set up to track the sector, and in its words make it more accountable, maintains a database of foreign funding to NGOs, using figures the organizations themselves are obliged to provide under Israeli law.

The figures show that just over 100 million shekels ($26 million) was donated to 24 of the most active NGOs during 2012-2014, including Breaking the Silence, which collects anonymous testimony from Israeli soldiers; and Adalah, a legal rights organization focused on the Palestinians.

Related stories:

B'Tselem, one of the main recipients, says it was given 13.3 million shekels from US and European donors in that period, accounting for about two thirds of its entire funding.

If Shaked's bill were to pass, Michaeli reckons B'Tselem could keep operating, albeit with a much reduced budget. Other, smaller NGOs might be forced to shut down.

But it is not so much the potential loss of funding that has NGO advocates alarmed, as the message that such legislation sends, even if it doesn't secure parliamentary backing.

In a country that has traditionally taken dissent on the chin, the move to clamp down reveals a new, thinner skin, one less accepting of opposing opinion, especially from those regarded as having a left-wing agenda.

"There's a sense on the Israeli right that progressive or liberal viewpoints are a danger and that something has to be done about it," said Matt Duss, the president of the Foundation for Middle East Peace in Washington, DC.

"It creates a hostile environment for those who express legitimate criticism and would put Israel in some very bad company."

It remains unclear how much backing Shaked will get for her bill, but she looks determined to test the waters.

NGO Monitor, which has questioned the accuracy of data gathered by groups like B'Tselem, says it does not support any legislation that would punish the NGO community.

But its head, Gerald Steinberg, accuses B'Tselem and others of waging "a very dangerous form of warfare" against Israel and says legislation is needed to combat "the destructive European policy of funding political NGOs".

Others see a different objective.

"Members of the government are out to settle scores," said Duss, mentioning Prime Minister Benjamin Netanyahu's election-day criticism of unspecified left-wing groups that he accused of helping to take Israeli-Arab voters to the polls.

"It's part of a broader effort to limit the political space, to constrict the freedom of opposing views," said Duss.