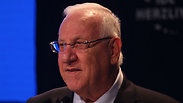 President Rivlin
Photo: Motti Kimchi
President Reuven Rivlin expressed his concern to the United States on Wednesday about the fate of the Druze minority in Syria, saying around 500,000 of them were under threat from Islamist militants in an area near the Israeli border.

Israel's Druze, some of whom have reached the senior echelons of Israel's military and the government, have been calling for help on behalf of their brethren in Syria, both at home and abroad.

"What is going on just now is intimidation and threat to the very existence of half a million Druze on the Mount of Druze which is very close to the Israeli border," Rivlin said after a meeting with General Martin Dempsey, the US military's top officer.

The southern region near the border with Jordan and Israel is one of the areas where President Bashar Assad has recently lost ground to insurgents in the civil war.

Groups active in the south include the non-jihadist rebels of the 'Southern Front' and al-Qaeda's Syrian arm, the Nusra Front. Islamic State has also been targeting Syrian army positions in Sweida province, the Druze heartland.

Members of the Druze sect, an off-shoot of Islam, are spread across Lebanon, the Palestinian territories, Israel and Syria. The puritanical school of Sunni Islam espoused by al-Qaeda and Islamic State views the Druze as heretics.

A US official said arming the Druze did not come up in Dempsey's discussions in Israel, although Syria had topped the agenda.

"It's the Druze who are asking everyone to arm the Druze. The Druze of Israel have been raising it with Israel, with the US, with Jordan - everyone," the official said.

The Druze have historically professed loyalty to local rulers and in Syria have backed the family of President Bashar Assad in his war against the rebels, both non-jihadist and Islamist.

Lebanese Druze leader Walid Jumblatt has urged the Druze in southern Syria to become allies with other communities in order to protect themselves.

Only "reconciliation with the people of Houran" - a reference to areas where rebel groups captured a major base from the Syrian military on Tuesday - could protect them from "dangers", he said on Twitter.

Mainstream Syrian rebel groups said on Wednesday they had launched an offensive on the military airport of Thalaa, west of Sweida, which they say government forces use to bomb villages and towns across rebel-controlled areas in the south.