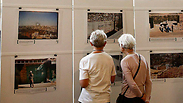 At a Breaking the Silence exhibition in Switzerland
Photo: Reuters
The Israeli Embassy in Germany succeeded in thwarting an exhibition by a left-wing NGO that was supposed to take place in Cologne as part of the celebration of the 50th anniversary of relations between Israel and Germany.
Breaking the Silence is an organization that has been collecting testimony from IDF soldiers serving in Palestinian territories since the Second Intifada. In line with the organization's highly publicized actions, they tried, among other things, to stage an exhibition of photographs taken by soldiers during their service in Palestinian territories, which do not always paint Israel in a positive light.
The Israeli Embassy in Berlin was surprised to find out that a Breaking the Silence exhibition was scheduled among the events marking the anniversary, as well as other events unrelated to the anniversary, such as "a discussion on peace movements in Israel and Palestine," a lecture on "Palestinian Christians," a lecture on Israel and Palestine, among others.
The Embassy decided to intervene, and asked the German Foreign Ministry to remove these lectures from the schedule. The Embassy also sent a harsh letter to the city of Cologne, stating that "as long as there is no clear distinction made between legitimate projects about Israeli-German relations and this issue, we do not want to take part in all the events."
Related stories:
As a result of the Israeli pressure, the Breaking the Silence exhibition in Cologne was canceled. The other events related to Palestinian issues were also removed from the jubilee year program and will be held in a separate framework.
The director of the embassy's public relations said: "Our activity has proven itself and we have succeeded in canceling the exhibition. We did it with the help of various parties who expressed their resentment at such an event taking place during this special year. The embassy is marking the jubilee anniversary of Israeli-German relations in various events across the country, and it is of great importance to counter attempts to add events that have no connection with the jubilee."
Recently, the Israeli Ministry of Foreign Affairs tried to cancel a similar Breaking the Silence exhibition in Switzerland, but the Swiss rejected the Israeli request and argued that they would not harm freedom of expression.