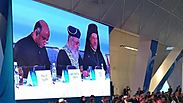 Rabbi Yosef at the Kazakhstan conference. 'Words can kill'
Photo: Gold Media
Israel's Chief Sephardic Rabbi Yitzhak Yosef has asked United Nations Secretary-General Ban Ki-moon to help fight the anti-Israel boycott campaign in the world.

"It's not enough not to cooperate with this phenomenon," the rabbi stated. "It must also be fought. Those who use the way of boycotts are not interested in real peace, because the way of boycotts leads to the opposite result."

Anti-BDS

Bassam Eid, a human rights activist, says boycotts only ends up harming the Palestinians, and says Israelis should demand PM for solution to Israeli-Palestinian conflict: 'If the Israelis don't fight the occupation themselves, we will never be able to fight it'.

The chief rabbi and UN secretary-general met this week during the Congress of Leaders of World and Traditional Religions held in Kazakhstan. Representing the State of Israel, Rabbi Yosef warned: "We recently saw with our own eyes that words can kill. As leaders, we must reject any kind of boycott."

Yosef personally turned to Ban, from the stage and during a meeting at the margins of the conference, and urged him to take initiative and fight the boycott phenomenon himself and through his organization.

In his speech, the rabbi explained that an attitude of tolerance must be adopted in order to eventually reach peace between people and religions. He added that Judaism educates for tolerance, and therefore it is customary to take three steps back when saying "Oseh Shalom Bimromav" ("He who makes peace in His heights").

"In order to reach peace, each side must take three steps back," he said.

The conference, which is sponsored by Kazakhstan's President Nursultan Nazarbayev, is attended by dozens of religious leaders, some of them from countries which have no diplomatic relations with Israel – like Saudi Arabia, the United Arab Emirates, Qatar and Afghanistan – and by heads of state, including Jordan's King Abdullah.