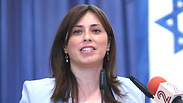 Tzipi Hotovely
Photo: Gil Yohanan
Swiss prosecutors said on Thursday that they opened an espionage investigation in May amid suspicions that Swiss hotels hosting talks on Iran's nuclear program have been targeted in a cyber-spying campaign. A state official in Vienna said Austria was also investigating the suspicions.

Kaspersky, a cybersecurity firm, said this week it uncovered the campaign and that the malware was so sophisticated it must have been created by a government.

"The Federal Office for the Protection of the Constitution and Counterterrorism is aware of the information and is reviewing it," an interior ministry spokesman in Vienna said.

He declined to give more details about which locations were under review. The talks have been held in Vienna, Geneva, Lausanne, Montreux and Munich.

Andre Marty, a spokesman for Swiss federal prosecutors, said that Switzerland's investigation is directed against persons unknown and was opened following a report from the Swiss intelligence agency.

He said in an emailed response that a search took place in Geneva on May 12 during which unspecified information technology material was seized.

"You know that there are enemies of these talks and they will do whatever they can, so it's not a surprise to us," Reza Najafi, Iran's ambassador to the UN nuclear agency, told reporters in Vienna.

"We continue to take precautionary measures not to let any details of the discussion go to the public," he added on the sidelines of an International Atomic Energy Agency board meeting. "I should say we have been successful in that regard... Of course there are some cases, which are just incidents."

Earlier on Thursday, Deputy Foreign Minister Tzipi Hotovely dismissed as baseless reports Israel may have had a connection to the "spy virus."

Both Kaspersky and US security company Symantec said the virus shared some programming with previously discovered espionage software called Duqu, which security experts believe to have been developed by Israelis.

Israeli government officials had declined to comment, but on Thursday Tzipi Hotovely denied Israel was involved. "The international reports of Israeli involvement in the matter are baseless," she told Army Radio.

"What is much more important is that we prevent a bad agreement where at the end of the day we find ourselves with a Iranian nuclear umbrella," she said.

Israel has denounced the diplomatic opening to Iran, saying it doubts any agreement arising from the talks will sufficiently restrain the atomic program of its arch-enemy.

The West suspects Iran wants to develop a nuclear weapons capability from its enrichment of uranium. Iran says it is seeking nuclear energy for electricity and medical isotopes.

AFP, AP and Reuters contributed to this report.