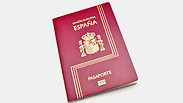 Spanish passport
Photo: Shutterstock
After months of speculation, Spain's lower house iapproved a new citizenship law on Thursday that allowing descendents of the Jews forced to flee the country in 1492 to receive Spanish passports.

The Sephardic Ancestry Bill will enable an estimated 2.2 million descendents of the expelled Jews to apply for Spanish citizenship, which they could hold alongside an additional citizenship. So far, only citizens of South American countries, Andorra, Portugal and Spain's colonies enjoyed these rights.

Spain's vote on Thursday afternoon followed the approval in March of a similar citizenship plan in Portugal for Sephardic Jews whose ancestors were forced to leave that country.

While some hoped a "Spanish sounding" last name would be enough to receive Spanish citizenship, the process itself is not so simple.

The conditions required to submit a request for citizenship have been thought out by Spanish authorities to the most minute detail and span over 10 pages, including a detailed description of a requirement to prove a family connection to the Jews that were expelled 523 years ago.

Citizenship applications could be based on family documents kept throughout the generations, such as birth certificates, marriage certificates, a Ketubah (Jewish marriage contract) written according to the tradition of the Castile Jews, and other similar documents.

Requests can also be based on the demonstration of control of Ladino (a Judaeo-Spanish language) or Haketia (an endangered Jewish-Moroccan Romance language).

On the list of conditions, which will be examined as a whole, the legislation details what documents could strengthen the application further, including documents from the Federation of Jewish Communities in Spain, an approval from a certified rabbinate authority or any other documents to show the descendents kept Spanish tradition.

Those seeking Spanish citizenship will also be asked to prove links to Spain with documents confirming the applicant took classes in Spanish history or culture. Applicants will also be asked to pass what is described as an "integration" test of familiarity with the Spanish language.

After its approval, the law will come into effect on October 1. The process - from submitting the request until a decision is made - is supposed to take about a year.

The website of the Federation of Jewish Communities in Spain has a detailed explanation on how to file the application.