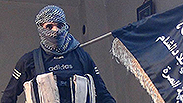 Nusra Front fighter at the Yarmouk refugee camp
Photo: AFP
BEIRUT - Members of the al-Qaeda-linked Nusra Front Sunni militant group have killed 20 Druze villagers in northwestern Syria, a group monitoring the war reported on Thursday.

The incident occurred on Wednesday in the village of Qalb Loze in Idlib province, where the Nusra Front is part of an insurgent alliance that has seized wide areas from government control in the last three months.

The Druze faith is an offshoot of Islam viewed as heretical by the puritanical school of Sunni Islam espoused by al-Qaeda.

The shooting spiralled out of a confrontation that began when a Nusra Front member tried to confiscate the house of a villager who was fighting alongside Syrian government forces, the Syrian Observatory for Human Rights reported, citing local sources.

The dead included elderly people and at least one child, the UK-based Observatory said. A member of the Nusra Front was also killed when villagers managed to seize a weapon from a Nusra Front fighter.

An account of the incident attributed to a Nusra Front fighter and published on a Twitter account used by the group's supporters laid the blame with the villager who had refused to relinquish the house to someone described as "in need". It did not give a casualty toll.

Syria's state-run news agency SANA described it as a massacre.

The president of Israel, home to a sizeable Druze community, on Wednesday expressed concern to the United States about the fate of the Druze minority in Syria, saying around 500,000 of them were under threat from Islamist militants in an area near the Israeli border in southern Syria.

Lebanese Druze leader Walid Jumblatt had made contact with Syrian opposition factions and "influential regional forces" that had yielded a "joint effort" to guarantee the safety of villages in the northwest that had "stood by the revolution", according to al-Anbaa online, a news publication published by Jumblatt's Progressive Socialist Party.

"The problem" had been contained, it said.

In an interview with Al Jazeera news channel last month, the leader of the Nusra Front urged members of the Alawite sect, another minority, to change their beliefs and to renounce President Bashar al-Assad, a fellow Alawite, if they wanted to remain safe.

Nusra Front is the second most powerful insurgent group in Syria after Islamic State, which also controls large swathes of Iraq. The two groups share hardline Sunni Muslim jihadist ideology but disagree over Islamic State's proclamation of its leader as caliph ruling over all Muslims.

Nusra Front is now allied to other groups fighting against Assad, including some which have received support from Arab allies of the United States, which is leading an air campaign against Islamic State and also opposes Assad.