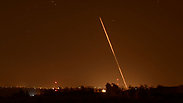 Rocket launched from Gaza (Archive)
Photo: Avi Roccah
A Red Alert siren signaling an incoming rocket sounded in the Ashkelon area on Thursday at around 10 PM.
Locals reported hearing a loud noise north of Ashkelon. No damage or injuries were reported.
The IDF later announced that the siren was prompted by a rocket launch from Gaza that landed inside the Strip.
Yuval Sadon, Chairwoman of the Ashkelon Students Union, related her fear of a new round of violence in the wake of the recent attacks: "I want to start the summer with a smile, to start the vacation free of worry." she said.
Sadon continued: "To be able to study for my final matriculation exams, and focus on them without the thought of the next 'trickle', or the next operation that will emerge from said trickle. In all honesty, I don't know if the feeling of vulnerability and the uncertainty of a whole summer in the bomb shelters equals the feeling of defenselessness of life in the shadow of rockets attacks."
The most recent incident of rocket fire in the Ashkelon area was on Saturday, which led Defense Minister Moshe Ya'alon to order the closure of Israel's two border crossings to the Gaza Strip, Kerem Shalom and Erez, temporarily and the IAF to strike targets.
A Salafist group that sympathizes with Islamic State, the "Omar Brigades," who claimed responsibility for two
earlier rocket launches, claimed the Saturday launch as well.
The group said the rocket aimed at Ashkelon was in solidarity with Palestinian prisoners held in Israeli jails, and their own members incarcerated in Hamas-controlled jails in Gaza.
"The Jews will never enjoy security and safety as long as we are alive," the group said in a statement.
Last Wednesday, at least two rockets were fired from the Gaza Strip at southern Israel around 11 PM local time, with at least one of them falling in an open area in the Sdot Negev Regional Council.
In response, Israel Air Force jets struck three targets in the Gaza Strip in the early hours of Thursday.