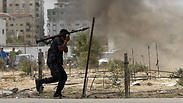 Hamas fighters training
Photo: AFP
Among the many attractions available to Palestinian children in the area formerly known as Gush Katif are a theme park, water slides, a zoo - and a Hamas terror camp. Hundreds of teenagers aged 12 and up train there as Hamas shapes the future fighters of its military wing, the Izz ad-Din al-Qassam Brigades. The teens practice live fire, learn how to read maps and offer first aid, and also practice the kidnapping of IDF soldiers.

What used to be Gush Katif is far from being Gaza's Disneyland. After taking over the Gaza Strip two years after Israel's pullout, Hamas constructed three large training complexes in the evacuated areas. The first is in the Hof Aza Regional Council - where Elei Sinai, Dugit and Nisanit once stood. The second is in the Netzarim corridor. The third - and most important of the three - was constructed on the ruins of Gush Katif. This complex even earned the nickname "Hamas' Tze'elim" – a Hamas version of the large IDF training base in southern Israel.

Not far from the giant ferris wheel, Hamas is training its forces for the next confrontation with Israel. This is also where it is conducting its long-term rocket experiments, and where the tunnel-digging activities are centered - with trucks and a cement factory on hand.

This complex - surrounded by a fence, under heavy security and out of bounds to journalists - is where the organization conducts its research and development activities. The complex's importance increased over the past year with the almost complete closure of the Rafah border crossing by Egypt, which prevents the transportation of weapons, like standard rockets, into the Strip.

Gaza disengagement

On the ruins of Netzarim, the Palestinians built a theme park with a giant ferris wheel, while public buildings in Neve Dekalim are now a branch of al-Aqsa University. Where Ganei Tal once stood, the children of Khan Younis are now enjoying water slides. Maurizio Molinari, a correspondent for Italian newspaper La Stampa, went back to the settlements Israel evacuated in the summer of 2005.

Hamas is instead self-producing its rockets at a facility located in the former Gush Katif and from there also conducts experiments by launching rockets into the sea. These experiments increased over the past year - both in an attempt to increase the rockets' range and in order to find ways to bypass Israel's Iron Dome missile-defense system, which had a 89 percent success rate in intercepting rockets fired at built-up areas.

Hamas also built a border fence of sorts and practice tunnels in its training grounds, so its fighters could learn how to infiltrate Israel.

While Hamas is interested in a long-term ceasefire and accepts Israeli aid in rehabilitating the Gaza Strip, it has not given up on increasing its power. It is there, on the ruins of the Gush Katif settlements, that they're preparing for the next confrontation.