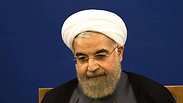 Iranian President Hassan Rouhani at Saturdays conference
Photo: AFP
Iran's President Hassan Rouhani said on Saturday he would not put state secrets at risk in the country's nuclear negotiations, becoming the latest senior official to express reservations about intrusive inspections sought by world powers, and the talk's nearing deadline.
The question of inspectors' access to Iran's nuclear sites and military bases is a major sticking point in the nuclear negotiations between Iran and world powers, which are set to conclude by June 30.
"Iran will absolutely not allow its national secrets to fall into the hands of foreigners through the Additional Protocol or any other means," Rouhani said. The Iranian president was referring to the mechanism that would allow for more intrusive inspections of Iranian sites by foreign inspectors.
Rouhani has not ruled out implementing the additional protocol, noting that other signatories to the nuclear non-proliferation treaty have done so without any problem. Although he has insisted that Iran should not face especially intrusive measures.
U.S. and French diplomats have called for Iran to accept stringent measures, including access to its military sites and inspections on as little as two hours notice.
Supreme Leader Ayatollah Ali Khamenei, who has the final word on Iran's foreign and security policy, has ruled out several requests by the West, including on interviewing its nuclear scientists.
Rouhani also spoke to the issue of the June 30 dead line on Saturday, saying nuclear talks could be extended beyond their deadline if world powers raise new issues in the negotiations.
"If the other side sticks to the framework that has been established and does not bring new issues into play, I believe it (the nuclear issue) can be solved and we can reach an agreement," he said in a televised news conference.
"But if they want to take the path of brinkmanship, the negotiations could take longer," he continued.
According to the President, a final nuclear deal is "within reach" and talks are making progress, although some gaps still remain.