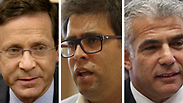 from right to left Yair Lapid, Oren hazan, and Izaac Herzog (Photo: Gil Yochanan, Goerge Ginsburg)
Yair Lapid, head of the Yesh Atid party criticized opposition leader Isaac Herzog Saturday, saying Herzog had provided a safety net to embattled Likud MK Oren Hazan. Hazan has been accused of allegedly pimping out call girls, and taking drugs while serving as a casino boss in Bulgaria, "There are distasteful trends in the coalition, corruption is taking over Likud party politics - so why should we jump to save the Likud," Lapid said.

Lapid's remarks referred to Herzog's decision to offset votes and debates with the coalition in the Knesset, so that the coalition can deal with the Hazan affair without fear of Hazan's retribution based absence during important votes, and thus threaten the coalition's governance. The current coalition government has only 61 seats in the Knesset, a slim majority requiring every MK's presence during important votes.

Herzog says that in order to uphold the Knesset's reputation, political considerations must be surpassed; however, his own party has derided him for the decision. Zionist Union party members have said that there is no reason that their party should save the Likud from the scandal, for which Likud bears all responsibility by having elected Hazan.

"It's not the opposition's job - we don't have a clue how Bogie (Herzog) understood it to be the oppositions job," Lapid said.

.

"I would act differently, and I believe that if I was in Israel, things would be different," Lapid continued. Lapid returned from the US this week.

"I'm intrigued to hear the Prime Minister speak, who so far has held a Buddhist silence on the matter, like it's not any of his business," Lapid decried.

Lapid has expressed worry over the positions still held by Hazan at the peak of public controversy: "Oren Hazan is currently sitting in the Security and Foreign Affairs Committee in the Knesset, and is exposed to the most sensitive national secrets; he knows what's happening in Dimona, in the north, and south. Prime minister, Defense Minister and the Committee Chairman are all Likud members; they must answer for this disgrace. It's in no way permissible that a man like Hazan will be exposed to the most sensitive of state secrets," he said.

The Zionist Union offered in response: "It is saddening that Lapid is intent on helping Netanyahu's government with his irresponsible statements. He would be better dealing with the matter himself on its merits and not the decisions of the opposition leader."

The statement continued: "Herzog has answered the request of the Knesset Chairman for a few days and to a limited degree, because there are certain times when the good of the nation comes before all else, which involves making decisions not based on narrow political interests - which are being used by opposition figures to attack the opposition chief more than the Prime Minister."