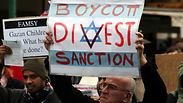 Boycott campaign against Israel
Photo: Reuters
Prime Minister Benjamin Netanyahu hinted Monday at a parallel between calls for a boycott of Israel and the actions of the Nazis against the Jews during the Holocaust.
During a meeting with Polish Minister of Foreign Affairs Grzegorz Schetyna, Netanyahu alluded to the Nazi persecution of the Jews of Poland, saying: "Attacks against Jews have always been preceded by the slander of Jews."
More on this topic:
He said that Israel would not tolerate attempts to subject it to a widespread boycott.
"What was done to the Jewish people at the time, is now done to the Jewish state. We will not accept it," Netanyahu vowed.
The prime minister has taken a fierce stance against international efforts to isolate the country economically and socially, and recently launched a drive to counter the work of the Boycott, Divestment and Sanctions (BDS) movement.
Earlier this year, Netanyahu told a group of visiting Jewish American leaders that it was time for Israel to "fight back" and "delegitimize the delegitimizers."
"In the past anti-Semites boycotted Jewish businesses and today they call for the boycott of the Jewish state, and by the way, only the Jewish state," Netanyahu said at the time.
There are increasing concerns in Israel over the Palestinian-led BDS movement. Israel has allocated some NIS 100 million to the office of Strategic Affairs and Information Minister Gilad Erdan, most of which will go to fighting BDS.
Boycotts of Israel have been growing recently, primarily in Europe, where some businesses and pension funds have cut investments or trade with Israeli firms they say are connected to West Bank settlements.
Recent comments by Stephane Richard, the head of global telecommunications giant Orange, that he would end the company's ties to Israel if he could were met with a furious response by Israeli leaders.
"The absurd play in which Israeli democracy defends itself against rocket attacks and terror tunnels and takes automatic condemnation and boycott attempts will not be forgiven," said Netanyahu at the time.
Richard soon backtracked on his remarks, made during a visit to Cairo, and even travelled to Israel to meet with Netanyahu.