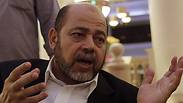 חמאס מוסא אבו מרזוק
Photo: Reuters
Leading members of Hamas are meeting in Qatar to discuss a proposal for a long-term ceasefire with Israel, the Palestinian Al-Quds newspaper reported Monday.
The truce proposal, which is backed by both Qatar and Turkey, is based on an outline formulated by UN special envoy to the Middle East Nikolay Mladenov, according to Israel Radio.
Israeli media reported that leading Hamas member Abu Marzouk arrived in Doha from Gaza on Saturday and held a series of meetings with Hamas leader Khaled Mashal, who lives in Qatar, as well as other senior officials in the organization.
The truce proposal is said to stipulate that Israel allow the construction of a floating sea port off the Gaza coast, to be subject to Israeli or international supervision.
In return, Hamas would agree to cease fire for five years, with the possibility of extending it.
UN envoy Mladenov warned the Security Council last month that Gaza residents have become desperate, and that Israel and the Palestinians bear responsibility to prevent a collapse.
He also said Gaza residents were furious about the Israeli blockade, the closure of Rafah Crossing to Egypt (although it has been temporarily opened since), Hamas itself, and the international community that has failed to follow through on its commitments to help rehabilitate the Strip.
About a year since Operation Protective Edge, the UN's report on its events is imminent. Diplomatic sources in Jerusalem suggested that the report will be released later this week.
Concerned that the Palestinians would leak the report, the Foreign Ministry released its own version of events on Sunday. It claimed among other things that Hamas forced Palestinian civilians to stay in battle zones.
The Israeli line of defense is that Hamas committed war crimes and that half of Palestinian fatalities were militant terrorists.
The calm that has settled over southern Israel since last summer was recently broken. Sporadic rocket launches were attributed by Gaza authorities to a radical Salafi organization opposed to Hamas.
The truce idea has come up in the past, at least since the Aug. 26 ceasefire that ended last summer's 50-day war between the sides, but Israel has strenuously objected to the Hamas demand for an airfield and sea port, fearing these would be used to bring in weapons.