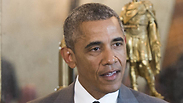 US President Barack Obama
US President Barack Obama invited Prime Minister Benjamin Netanyahu to Washington next month, Ynet's sister publication Yedioth Ahronoth reported Tuesday morning. State Department sources said that the probable date for the visit is either July 15 or 16.
President Obama previously announced that a personal meeting with Netanyahu at the White House, after the latter's re-election as Israeli prime minister, would take place only after a final agreement between Iran and the six world powers was signed.
Israeli officials therefore believe the Americans are convinced that they will succeed in signing an agreement with Iran in the coming weeks, despite the delays and difficulties that are leaked daily from the negotiation rooms.
Nonetheless, if Netanyahu's visit does indeed occur, it will take place before Congress approves the agreement between Iran and the great powers. Obama must be interested in the visit itself, in its success and especially the joint statements before the cameras at its conclusion.
A negative attitude by Netanyahu regarding the agreement could make it difficult for Obama to have the agreement with Iran passed in Congress.
From Israel's point of view, Netanyahu's visit is also an opportunity to try to rebuild, to a large extent, the troublesome relations between the two men, which has caused direct and indirect damage, including damage to Israel's deterrence caused by creating the impression that Jerusalem is no longer coordinated with Washington on central policy issues.
The visit is also an opportunity to coordinate with the Americans upcoming political developments in the region, so Israel is not surprised again by policy initiatives and attacks in international forums.
Also, Netanyahu is expected to demand a compensation package for increasing threats facing Israel. Among others, Netanyahu will seek to expand Israel's qualitative military advantage on other countries in the region.