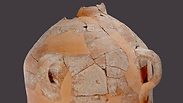 Clay jar glued together with inscription from King David's time
Photo: Tal Rogovsky
Israel Antiquities Authority (IAA) researchers succeeded in reassembling 3,000-year-old clay jar shards with an ancient inscription from the time of King David. Decoding the inscription posed a new challenge to researchers - discovering who the mysterious Eshba'al ben Beda' was.
In excavations in 2012 at Khirbet Qeiyafa, in the Valley of Elah, shards dating from the 10th century BC, King David's time, were discovered. Professor Yosef Garfinkel of the Institute of Archeology of the Hebrew University and Saar Ganor of the IAA spent three years gluing the shards together.
Archeology
Israel Antiquities Authority says church served as a way station for pilgrims and travelers to Jerusalem in Byzantine Empire.
After intensive reassembly work conducted in an IAA lab, the inscription Eshba'al ben Beda' was found engraved on the jar in ancient Canaanite script.
"This is the first time that the name Eshba'al has appeared on an ancient inscription in the country. Eshba'al Ben Shaul, who ruled over Israel at the same time as David, is known from the Bible.
"Eshba'al was murdered by assassins and decapitated and his head was brought to David in Hebron. It is interesting to note that the name Eshba'al appears in the Bible, and now also in the archaeological record," added Garfinkel.
"This name was only used during the time of King David. The name Beda' is unique and does not occur in ancient inscriptions or in the biblical tradition," added Garfinkel.
The discovery of inscriptions from the days of King David is a very recent phenomenon. According to Garfinkel and Ganor, "until about five years ago we knew of no inscriptions dating to the tenth century BCE from the Kingdom of Judah. In recent years four inscriptions have been published: two from Khirbet Qeiyafa, one from Jerusalem and one from Bet Shemesh.
"This completely changes our understanding of the distribution of writing in the Kingdom of Judah and it is now clear that writing was far more widespread than previously thought. It seems that the organization of the kingdom required a cadre of clerks and writers and their activity is also manifested in the appearance of inscriptions."
According to estimates, the fact that Eshba'al's name was engraved on the jar suggests that he was an important person and apparently owned a large agricultural estate.
This is clear evidence of social stratification and the creation of an established economic class that occurred at the time of the formation of the Kingdom of Judah. " the researchers added. noting that Khirbet Qeiyafa, in the Valley of Elah, is identified with the Biblical city of Sha'arayim..
At Sha'arayim the archeologists discovered a fortified city, two gates, a palace and storerooms, dwellings and cultic rooms. The city dates from the time of David, that is, the late eleventh and early tenth centuries BCE.