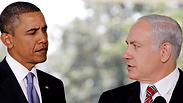 Obama and Netanyahu
Photo: Reuters
WASHINGTON - The White House denied a report on Tuesday that US President Barack Obama had invited Prime Minister Benjamin Netanyahu to meet in Washington next month.
Citing unnamed US State Department sources, Ynet's sister-publication Yedioth Ahronoth said the two leaders could meet in the White House on July 15 or 16, after the June 30 deadline for an Iranian nuclear deal over which they have frequently clashed.
Since Netanyahu's election to a fourth term on March 17, US and Israeli officials have said they expected he would meet Obama again. But no date has been set, and a White House official denied Netanyahu had received any US invitation.
"No invitation has been extended, though certainly we'd expect that there will be occasion for the two leaders to meet in Washington at some point going forward," the official, speaking on condition of anonymity, said in response to Yedioth's report.
A spokesman for Netanyahu's office had no immediate official comment on the report. Israeli officials speaking on condition of anonymity, however, told reporters that no such invitation had been received.
Netanyahu has criticized the emerging nuclear deal, which Israel fears will allow Iran the means of making a bomb, while also granting it sanctions relief that could help bankroll its militant allies in the region.
Iran says its nuclear projects are peaceful.