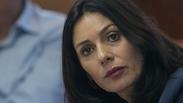 Culture Minister Miri Regev
Photo: Ohad Zwigenberg
Culture Minister Miri Regev decided on Tuesday to freeze state funding for an Arab theater whose play about a Palestinian prisoner who murdered an IDF soldier angered the right, fuelling accusations that the government aims to suppress productions it deems pro-Palestinian.

Regev, who has threatened to divert money from institutions seeking to "hurt the state", said that irregularities discovered in al-Midan theate's finances led to her decision to withhold government money.

The Culture Ministry did not say how much money was being withheld, and the theater did not respond to phone calls seeking comment.

Its play "A Parallel Time", about Walid Daka, who was convicted of planning the murder of IDF soldier Moshe Tamam in 1984, was criticized by Regev and far-right Education Minister Naftali Bennett, who last week banned school trips to see it.

Ortal Tamam, Moshe Tamam's niece, told Ynet after a meeting with Regev on Tuesday that the culture minister sent a letter to Justice Minister Ayelet Shaked, asking her to examine whether the theater has ties to terrorist activity.

Dr. Haim Perluk, the chairman of Israel's Council for Culture and Art, spoke with the playwright, Bashar Murkus, who said he identified with Daka and that the killer was the source of his inspiration.

Perluk also said the council's investigation found that the Palestinian terrorist had access to the internet from prison, which he uses to spread his story and keep in contact with Murkus.

Dr. Perluk recommended the culture minister to freeze funding to the theater until law enforcement complete their investigation into its other sources of funding and any possible ties to hostile parties.

Both Bennett and Regev, responding to intimations they were discriminating against Arabs, have threatened to deny funding for Jerusalem's film festival next month after learning it would include a film about Yigal Amir, the ultranationalist Jew who assassinated prime minister Yitzhak Rabin in 1995.

Adalah, a human rights group that monitors policy toward Israel's Arab minority, which makes up 20 percent of the population, said Bennett's decision "violates both the artist's freedom of expression and the rights of Arab students to watch this play as part of their school activities".
Israeli artists' protest
Leading Israeli artists convened on Sunday to voice concern over Regev's threat to withhold support for projects promoted by an Israeli Arab actor after he refused to perform in a play in a Jewish settlement in the West Bank.

The gathering stirred national debate after actor Oded Kotler described the government's right-wing supporters as "cud-chewing cattle".

He later apologized, after his remarks were widely interpreted as an ethnic slur against Jews of Middle Eastern descent who make up the power base of Prime Minister Benjamin Netanyahu's and Regev's conservative Likud party.

Producer Liran Atzmor, who was among those who initiated the artists' petition against Regev, told Ynet, "This is a country governed by civil laws, and we can't have a minister who is above the law.

"These actions by Minister Regev are undemocratic. Democracy is not just the majority's right to rule, but also allowing minorities express their opinions and we will have to keeping acting, " Atzmor said, adding the artists' attempts to set up a meeting with Regev to discuss the issue were so far unsuccessful.

The Joint Arab List also commented on Regev's decision, calling it an attempt to hurt the freedom of expression, and particularly the freedom of artistic expression.

The decision to freeze funding to the theater, the party told Regev, "is an inappropriate use of your position for political censorship and for control of culture based on ideological motives."

President Reuven Rivlin said Tuesday that "Art is not the property of one camp or another, right or left, Sephardic or Ashkenazi. Shame on us if art also falls victim to dangerous politicization by one side or the other. Art is not a weapon, but a tool for dialogue, for communication, a tool that breaks barriers rather than put up walls."

The Association for Civil Rights in Israel also protested Regev's decision. "She is not a commissar of culture and the Culture Ministry is not a censor for culture," wrote the association's legal adviser Dan Yakir.

"The Culture Ministry's role is to support culture and art and not put them out. Cinema and theater's role is to deal with sensitive and controversial issues and encourage critical thinking. It is not art's job to encourage the state's legitimization or protect the image of IDF soldiers," Yakir continued.

"In rare cases in which a work of art incites to violence or racism, the Culture Ministry is entitled and even obligated to prevent public funding of this piece. Other than that, the Culture Ministry must not interfere with content and issues artistic creation deals with."