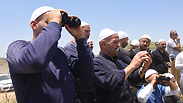 Druze looking from Israel into Syria.
Photo: Avihu Shapira
The IDF and Israel police announced a closed military zone in the North-Eastern Golan Heights Tuesday evening, due to protests by Israel's Druze community near the Syrian border, just hours after IDF Chief Gadi Eisenkot proclaimed that the IDF would act to prevent the massacre of refugees in Syria.

Barriers around the zone limited the movement of Israeli civilians who do not live in the area and IDF said that officials are closely following developments along the border. The barriers were lifted Tuesday night, just a few hours after being implemented.

Israel's Druze community in the north has been protesting over the last week, calling on the government to assist family and friends in Syria who face danger from advancing Islamic State and al-Qaeda affiliated militants.

IDF Chief Gadi Eisenkot said Tuesday morning, without explicitly mentioning the Druze, that the IDF would prevent the massacre of refugees in Syria if a large number of them fled to Israel's border. Eisenkot's comments were made at a meeting of the Knesset's Defense and Foreign Affairs Committee.

Eisenkot said that millions of refugees are in Syria and Jordan, while 1.8 million are in Lebanon, sending demographic and economic ripples throughout the region. Therefore, he said, the IDF is very concerned about the situation in the Golan Heights and within Syria, particularly because of the possibility that the IDF will have to deal with refugees arriving from Syria at the Israeli border.

The Chief of Staff brought committee members up to speed about ongoing changes in the region, saying that without intervention by Hezbollah and Iran in Syria, the Assad would likely fall. As of right now, he said, thousands of Hezbollah militants are fighting in Syria, and the group is Israel's primary immediate threat. Hezbollah has, said Eisenkot, armed itself with sophisticated weapons such as unmanned aerial vehicles, missiles, rockets, and anti-aircraft guns.

Eisenkot also emphasized that Hezbollah is investing strength on the Syrian front and has lost hundreds of its fighters. An estimated one hundred fighters have been killed in the last month alone, and the organization as a whole is said to be in a dire strategic situation.

Moran Azulay contributed to this report.