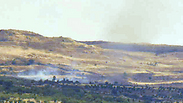 Golan Heights
Photo: Avihu Shapira
A Code Red siren sounded in the Golan Heights shortly before noon on Wednesday.

It was later reported that the siren was caused by fighting from Syria. No rocket hits in Israel were discovered immediately after the incident.

An alliance of rebels in southern announced a major offensive on Wednesday to capture remaining positions held by the Syrian military in Quneitra province, near the Golan Heights.

Quneitra sits in a sensitive region around 70 kilometres (40 miles) southwest of the capital Damascus and has been the scene of frequent fighting between various insurgent groups and the Syrian military backed by allied militia.

Rebel spokesman Issam al-Rayes wrote on Twitter that insurgent groups fighting in the operation had signed a pact, which did not involve al Qaeda's Syrian wing Nusra Front.

The groups in the offensive are fighting under the banner of the rebel Free Syrian Army, he said. Nusra has fought in southern Syria but is not thought to be the main insurgent force there, unlike in other parts of the country.

A Reuters photographer watching from the Israeli-occupied Golan said there had been heavy shelling since early Wednesday in the Quneitra area, with scores of bombardments.