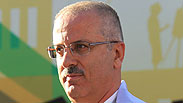 Palestinian President Rami Hamdallah
Photo: EPA
The Palestinian unity government formed last year in a bid to heal rifts between Hamas and president Mahmoud Abbas's Fatah party resigned on Wednesday, an official said.

"Hamdallah handed his resignation to Abbas and Abbas ordered him to form a new government," Nimr Hammad, an adviser to Abbas, told AFP, referring to prime minister Rami Hamdallah.

Discussions to form a new government would include consultations with the various Palestinian factions, including Hamas, he said.

Officials have said the planned dissolution of the government, made up of technocrats, had been under discussion for several months because of the cabinet's inability to operate in the Hamas-dominated Gaza Strip.

But it also came as Hamas sources said the Islamist movement was holding separate, indirect talks with Israel on ways to firm up an informal ceasefire agreement that took hold last August, ending a 50-day war in Gaza.

Some have argued that news of the secret talks prompted Abbas to move to dissolve the unity government.

A Palestine Liberation Organization official said the new government was likely to be one of politicians rather than technocrats.