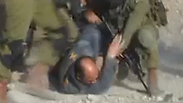 חיילי צה"ל מכים פלסטיני הפגנת יום שישי
Just three days after three IDF soldiers were sentenced for the allegedly unnecessary beating of a Palestinian being arrested during clashes near Ramallah, a full video of the incident was released by Palestinian sources Wednesday, showing no definitive proof that the Palestinian civilian attempted to take one of the soldier's weapons as the IDF claimed after initial investigations.

An original video of the incident, which erupted on social media on Saturday, showed the Palestinian being thrown to the ground and hit in the face by one of the soldiers, but it did not reveal what led to the heavy-handed arrest, leaving room for speculation that the soldiers were justified at least in making the arrest.

The full video

The clip released on Wednesday however, documents in full, the curses exchanged between the soldiers and the Palestinian as well as one moment in which the civilian brushes up against a soldier, but does not seem to make an aggressive grab for his weapon.

In addition to the questionable arrest tactics seen in the original clip, the full video shows one soldier forcing the Palestinian to the ground by hitting him over the back of the head with a rifle.

The full video reached the IDF on Wednesday afternoon, but no response or statement has yet to be released.

Two of the soldiers who were documented in the film received a suspended sentence of 28 days in army prison on Sunday, while another soldier who was seen cursing was sentenced to 30 days confinement to the base. The company commander was also reprimanded.