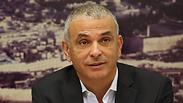 Finance Minister Moshe Kahlon
Finance Minister Moshe Kahlon sent a letter on Wednesday to US ambassador to Israel, Dan Shapiro, in which he distanced himself from what former Israeli ambassador to Washington, MK Michael Oren (Kulanu) wrote in the Wall Street Journal, namely, that the President of the United States Barack Obama has abandoned Israel.

Kahlon pointed out in his letter to Shapiro that "Oren's book was written before he joined the Kulanu party and reflects only Oren's personal position."

Kahlon also wrote that "during Obama's tenure, the security cooperation between the two countries has reached unprecedented levels, and Israeli citizens will always be grateful for that. I have always publicly expressed my deep appreciation of President Barack Obama for his efforts to stand by Israel and protect its interests.

"Once I became aware of Michael Oren's article I summoned him and he made it clear to me that what was written reflects his personal views." Kahlon asked the ambassador to convey his message to President Obama.

After the publication of the remarks against Obama, Shapiro attacked Oren. Shapiro said in an interview with Army Radio, "Oren is a friend of mine but obviously I do not agree with what he wrote. He is currently in a different position, he is a politician and writer who wants to sell books. Sometimes an ambassador has a limited view of private conversations between leaders, and his description does not reflect the truth. His version is imaginary."

In an op-ed piece Tuesday in The Wall Street Journal, entitled "How Obama Abandoned Israel," Oren wrote that both Netanyahu and Obama made mistakes that weakened their country's relationship but that only US President Barack Obama had done so "deliberately"

.

According to Oren, Obama had abandoned one of the key principles of the American-Israeli relationship, that there be no surprises regarding policy changes. Oren cited Obama's Cairo speech in 2009 as an example of this, as Obama did not give Netanyahu a copy of the speech beforehand, to allow him to make comments. Among other examples, Oren also says Obama surprised Israel when he entered secret talks with Iran without briefing Netanyahu.