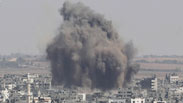 IAF bombing Gaza during Protective Edge
Photo: Reuters
Hamas denied on Wednesday that it reached a long-term ceasefire agreement with Israel, with a senior Hamas official saying that "so far, we have no written plans to discuss with the Palestinian factions."

Hamas sources said Tuesday that Israel and the Gaza rulers have been holding an indirect "exchange about ideas" for cementing a long-term ceasefire in the Gaza Strip.

The exchanges have gone through a number of Arab and European channels in a bid to firm up a ceasefire agreement that took hold last August, ending a 50-day war in Gaza.

"There has been indirect contact between Israel and Hamas, messages passed via Arab channels as well as through European and Turkish sources," one of the sources told AFP, describing it as "an indirect exchange of ideas."

A Hamas source said senior members of the Islamist movement had met in Doha over the weekend for talks with Qatari officials.

They focused on key issues for Hamas such as ending Israel's blockade, now entering its ninth year, and the establishment of a sea passage between Gaza and the outside world, the source said.

He did not say whether other Palestinian factions were involved in the talks, such as Palestinian President Mahmoud Abbas's Fatah movement, which was heavily involved in Egyptian-brokered talks that ended Gaza's 2014 conflict.

"We are ready for an agreement. Hamas wants to solve the problems in Gaza," the Hamas source said.

But he insisted the contacts were purely informal and that there was no formal initiative or proposal on the table.

"Hamas has received some European envoys in Gaza and Doha with messages from Israel. We received several envoys but it's not officially talks. It's indirect ideas and communication," he said, noting the involvement of a UN official as well as members of the European parliament.

Senior Hamas official Salah Bardawil was quoted by Al Jazeera as saying that "There are a number of European officials who have put forward a verbal initiative for a potential long-term truce in the Gaza Strip that extends the ceasefire from three to five years. So far, no vision or timetable for the implementation of the truce has crystallized."

Hamas official Moussa Abu Marzouk said the talks were initiated by former UN envoy to the Middle East Robert Serry and former Quartet envoy Tony Blair.

Abu Marzouk also commented on the Palestinian Authority's anger about the reported talks between Hamas and Israel, saying it was baseless.

"It is not possible for us to stray from our diplomatic direction and deny our national principles," Abu Marzouk said.

Asked about the indirect contact with Hamas, an Israeli source confirmed there had been some discussions.

"There are contacts with Egypt and other elements over an easing of the blockade and the entry of materials to Gaza in exchange for quiet," he told AFP.

Abu Marzouk left the Gaza Strip on Saturday, after spending two weeks there meeting with international and Hamas officials to discuss Serry's ceasefire proposal. He then left for Doha, Qatar, where he has been meeting with the Hamas leadership, including Khaled Mashal, to discuss the proposal.

Democratic Front for the Liberation of Palestine (DFLP) member Saleh Zeidan was quoted by Palestinian news agency Ma'an as saying Wednesday that a unilateral long-term agreement between Hamas and Israel would have "dangerous consequences," benefitting Israel's plan to "separate the Gaza Strip and the Palestinian national project."

AFP contributed to this report.